Blog
REGISTER NOW
LOGIN
SIGN UP FOR OUR NEWSLETTER
Wheels of Africa| Bike Ride to Cure Cancer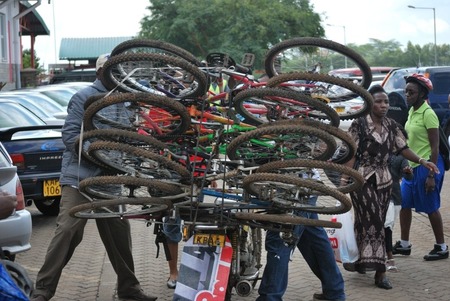 This weekend Wheels of Africa is hosting a Bike Ride to Cure Cancer in support of the Kenyan Cancer Association. The government of Kenya estimates that 18,000 people die of cancer each year and that number is thought to be conservative.
The mission of the
Tour d'Afrique Foundation
is to support people and organizations that are trying to improve the lives of others through the use of a bicycle.
Partnering with outstanding organizations like
Wheels of Africa
in Nairobi, Kenya helps us accomplish that mission.
If you are in or around Nairobi this Oct. 30th consider joining the Wheels of Africa Ride for Cancer. To find out more about Wheels of Africa or make a donation you can visit their website:
http://www.wheelsofafrica.or.ke/
For the last two years Wheels of Africa riders have been joining us on our Cairo to Cape Town bike tour as we cycle through Kenya. The local knowledge and perspective they provide really adds to the depth to the tour experience. Martin Kavita Wambua (picture above) one of WoA's members will join us this year for the entire tour as one of our full time mechanics.
Wheels of Africa has been actively involved in supporting cyclists in Nairobi since 2008. They have developed an innovative program to raise funds for the group called Bike Doctors, a mobile bike repair service. Wheels of Africa manages the service and members perform the repairs. This way income is generated both for individual mechanics and for the organization.
Their Other initiatives include: Road Safety Education Program for children, the Cycle for Cancer Ride, Tree Planting and raising awareness for environmental conservation, and lobbying for cyclists paths in Kenya among others. Recently they have submitted a proposal to start a Community Bike Shop in Nairobi that the Tour d'Afrique Foundation is proud to support.