Blog
REGISTER NOW
LOGIN
SIGN UP FOR OUR NEWSLETTER
India From the Back Seat of a Car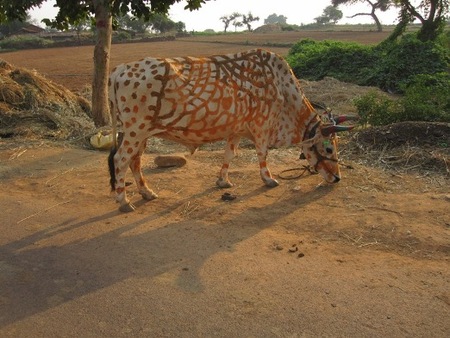 Hand-painted cow
Having now driven over 4,000 kms through five Indian states in the course of two weeks, I can honestly say that I am now never surprised what I see through my 'window' on this unique, exasperating and most amazing country.
On the way from Jaipur to Sariska I glance up to see an immense temple carved into a cliff on a hillside w/ no apparent access. In Jaipur I look up to see a fort on a hilltop with a huge swastika emblazoned on the front – like an Indiana Jones movie prop.
Lost in the night on the way to Agra on a modern divided highway, I glance up to a wide variety of cars, trucks and camel carts all headed in the wrong direction in our lanes – some with lights, some without. Indian guides did not even blink… Even in the daylight our path would be scattered with vehicles coming in the wrong direction – farm tractors ,incredibly over-loaded tuk-tuks, but the darkness added an extra layer of excitement to this activity.
I have seen us get lost in the crowded market streets of Agra and been stopped for the absurd (given India's traffic conditions – see above) reason for not wearing seatbelts in the car. Our Indian guides were dragged away and soon about 50 children started to bang on the car and tried to open the doors. We were freed on a 200R bribe – which I quickly expensed (sorry Brian).
In a small town in Gujurat along a back road I have seen some young Shiv Sena militia volunteers being trained in a deserted field – un-nerving. It made me think of Germany in the '30's – male, nationalistic, religious, dangerous.
I have seen signs for 'Anus Engineering' and "Taxi on Rant". Villagers drunk on local hooch celebrating the New Year. Purple striped donkeys. Pink handprints on a cow. Bull horns painted every imaginable colour. A yogi walking 350kms backwards to a temple. Gorgeous Banyan trees. Tacky election posters (I thought they were for a sleezy motivational speaker, so I was close). Traffic gridlock. Long, lonely beaches. Unbelievably crowded markets. Stunning decrepit architecture. Beautiful birds. Dead dogs. Immense wealth. Sickening poverty. A two-headed snake.
We have passed through creepy voodoo villages populated with strange monkey men, odd earthen idols, a one-eyed dog and weird locals.
This should be an interesting trip…