Blog
REGISTER NOW
LOGIN
SIGN UP FOR OUR NEWSLETTER
India Scouting Complete. Last thoughts from Mumbai.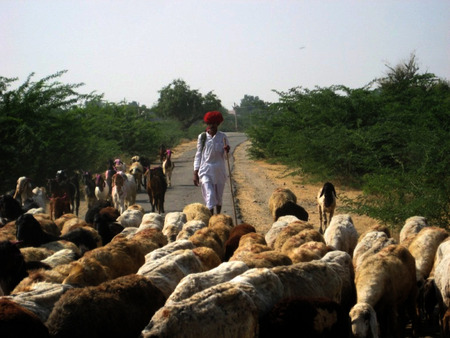 So our scouting trip to India is now complete. With an overpriced drink at the grand Taj Mahal Palace in the heart of Mumbai, we toasted our journey and reflected on four weeks full to the brim with sights, sounds, ups, and downs… to the point of travel blindness, (similar to snow blindness, it's only temporary). As scouts, we are constantly observing, analyzing, and recording details – is the road smooth? Will this route be easy for a bicycle? How is the traffic? Are there any hotels that can house 30+ cyclists and their ferocious appetites? Where are the top tourist sights in this area?
Summing up the scout and India itself is not an easy thing to do. This first time route held some unexpected hurdles that surprised even us well-traveled folks. But India's amazing diversity also delighted us in so many ways. Participants will sleep like royalty one night in parts of Rajasthan (Heritage Palaces converted by the families into grandiose accommodations) and then cycle one day further south to a town that offers no tourist infrastructure and only a handful of low budget 5-10 room hotels designed for the regional business traveler. It's what is available and what we will experience. On another day, the cyclists will be cruising along at a comfortable speed on immaculate, smooth paved roads. Rounding a corner, without warning the road will turn rough and narrow to the width of a wide cycling path. It's the way it goes, and the ability to be ready for anything will be a key to enjoyment and success on this tour.
Other surprises? An unexpected chai stop on a quiet road and chat with some local villagers, businessmen, or labourers. A ride full of breath taking scenery – point your camera in any direction on the ride into Munnar and you'll have a lasting image of the endless hills and Tea plantations, palm trees and fresh mountain air (you have a hell of a climb to get there!). Find a rooftop restaurant on your rest day in Jaipur and enjoy the views and some tasty Chicken masala or palak paneer with garlic naan. Sip on a fresh lime and ginger soda next to the pool at one of our Palace stays in the North or beach resorts in the south. Bargain hard in the streets of Udaipur and come away with a unique braclet, handbag, or sari. Cycling into places like Janjira, Gadag, Dungapur, Udayampalayam, or Kollam and other off the beaten track locales few travelers have been will reward you with an unfiltered view of Indian life at its most vibrant and strange.
And so it goes, the highs and lows. The flat roads, the rough roads, a breathtaking cruise along the coast south of Cochin from one pleasant fishing village to another. The non-stop colours and sights of Rajasthan. The smiles and warmth of the people of Kerala state. In short, the kaleidoscope that is India. We look forward to sharing more of our insights with you once we are briefly settled back in the Toronto office. Then its just a few short weeks till we will meet in Agra and start this, our Indian Adventure of a Lifetime.