Blog
REGISTER NOW
LOGIN
SIGN UP FOR OUR NEWSLETTER
Scouting Report from Mumbai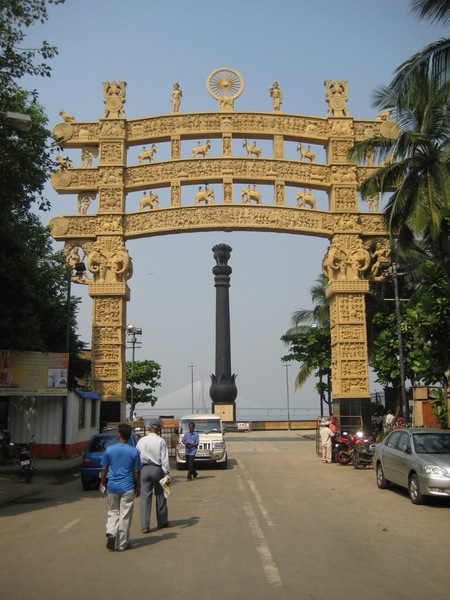 "Your ear, soap …"
"Sorry?" I say …
"Soap, in your ear, let me just …" and before I had processed what he said or what was going on (maybe I did have soap in my ear, having just showered off the days sweat and grime) the harmless looking gentleman began digging in my ear.
After being a little heat stroked from the bicycle, taxi, and motorcycle ride in the midday heat of Mumbai, I had set out in search of dinner. Walking at a steady pace with food on my mind, I headed to a small cluster of restaurants I saw where the taxi had dropped me earlier in the evening. But I decided nothing there much interested me and carried on. Too tired and hungry to search any more, I decided to head back to Café Leopold for dinner. Stepping up onto the curb and dodging a few vendors, I was passed on my right by a man who motioned and started "your ear, soap".
I resisted, then relented, then quickly resisted again as I felt his ear tools poke and prod at the inside of my ear. As I pulled away he showed me a brown waxy ball; kneading it around the end of his finger with his very professional looking metal ear pikes. I guess the demonstration was to prove that this brown ball came from my ear, and that his professional assistance was needed. He offered to finish the job and do the other ear (and certainly charge me a fee). I declined… my ears were clean, so I thought. I continued along the sidewalk, and spent the time on the way to Café Leopold checking my ear, paranoid that he had planted something or removed something or penetrated something he shouldn't have.
I had been warned of the street ear cleaners and many other cultural and environmental differences I should expect in India. It's fascinating to now see these for myself and to begin to form my own perspective on India. Whether it's a street ear cleaner or finding that a head nod in agreement to something is more of a head bobble – India is definitely a different place, and I have to keep my eyes (and ears!) open to these differences, and adapt to the routines, rituals, and oddities of this land… because I am the traveller, the outsider.
Feeling slightly violated, I arrived at Leopold's and settled in. Coming in through a side entrance, I could see the café was packed with young Indian couples, friend, and businessmen, along with domestic and foreign travellers like myself. The lively and loud conversations made the room electric – dulling the generally loud noises of horns and traffic of the busy street out front. Friendly wait staff soon brought me a Kingfisher beer and some bottled water. I watched as security checked everyone's bag as they entered. Leopold's had been a random victim of the Mumbai attacks of 2008 that ravaged this area known as Colaba. As I sit enjoying my meal, it's hard not to spot the marks left from that terrible day. Bullet holes in the ceiling and the pillars supporting it. Then there are the commemorative plaques and paintings that speak to the resilience and enduing spirit of the place – one plaque congratulates the café on opening its doors the very next day after the attack.
With my meal done I walked back to my hotel and reflected on the busy day and its successes and challenges. Twelve hours of Mumbai traffic was what it took a local cyclist and myself to sort out a route for our Indian Adventure Cycling Tour to enter the city. We first cycled 18 km from Bandra neighbourhood (midway thru the city) to the Gateway of India, and our exit point from Mumbai next to the Taj Hotel. Then it was a motorcycle ride to the northern edges of the city and an attempt to find a way in. Unfortunately we discovered it would be 60 km of city cycling to get to our hotel and not enough time in the morning hours to do this before traffic starts getting too mad for cycling, so it looks like we will bus our riders into Mumbai instead.
There is a magical window… a morning calm in Mumbai between sun rise (about 6:30am) and 9am. The larger city streets are very cycle-able almost verging on pleasant. But at 9am the city switches on – seemingly all at once, and the traffic, noise and general congestion continue to build throughout the day… making any cycling (even on a Saturday or Sunday) next to impossible with clogged streets everywhere. Unfortunately that magic window is just a little too small for the distance the tour needs to cover.
Mumbai has been fascinating and I have loved my time here. As with any travel, a place starts to become so much more in your mind than what you had first imagined it to be. Certainly there are problems in Mumbai – enormous slums fill many pockets of the city, sanitation can be more than just a little concerning. But now it's off to Delhi, and another new day of challenges and explorations. One of many we expect to have over the next four weeks here in India.
Lastly, I wanted to pass along a special thanks to Bertram, who guided me through the streets of Mumbai and gave me an insider's look at what cycling is really like here – thanks Bertram! I certainly could not have done it without you.