Blog
REGISTER NOW
LOGIN
SIGN UP FOR OUR NEWSLETTER
And Away they go!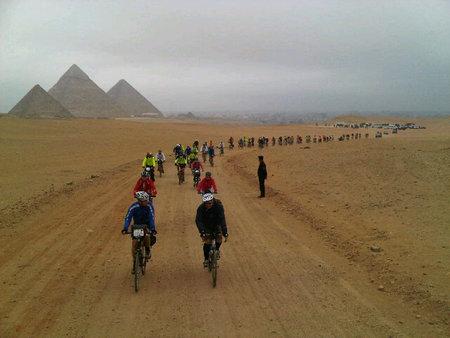 The big day has arrived!
After months, and in many cases, years of planning and preparation, riders on the legendary four-month, 12 000 km Tour d'Afrique set off from Cairo this morning – destination:- Cape Town, South Africa!
Representing 14 countries in total, over 60 full tour and 50 sectional riders will discover and experience some of the most exotic, mysterious and alluring aspects of the African continent from the seats of their bicycles.
Said Tour Director Sharita van der Merwe, "Riders range in age from 18 to 68 and while the majority of them do it for the sheer joy and adventure, a handful of racers will be giving it all they've got competitively. The event attracts riders from all walks of life, each with their own unique stories and reasons for doing it, but what is heartening is how many of the entrants are riding to raise funds and awareness for good causes and charities."
Many of the riders will be blogging en route.
From Australia:
Terry Wall www.terrywall.blogspot.com
The Australian 2011 Relay Team:
www.tda2011.dlaphillipsfox.com
From New Zealand:
Carrie Buckmaster www.captainslogafrica.blogspot.com/
From America:
Megan O'Brien www.MOBbikesAfrica.blogspot.com
Kendra Ryan www.kktourafrica.wordpress.com
Chris Fenar: www.pedalcrossafrica.com
Paul Wolfe: http://www.travelpod.com/members/paulwolfe
Scot DeMoss: http://demossie.com and his Facebook page
From Canada:
Jean Bernier www.velobosco.tripod.com
Steven Murchison my.e2rm.com/personalPage.aspx?registrationID=1046707&langPref=en-CA

From the UK:
Paul Spencer www.yeshesmad.com
Alice Morrison www.alicemorrison.co.uk
From Germany:
Hardy Grune www.hardygruene.wordpress.com
From Norway:
Kristian Pletten www.cairo-capetown.com
From South Africa:
Marelie Van der Merwe www.mareliev.blogspot.com
From Holland:
Bastiaan van Meeteren www.HeyBastiaan.waarbenjij.nu
You can follow these riders for glimpses into their personal experiences and stay updated on the thrills and spills of the 9th Tour d'Afrique by checking back here, as well as on our Facebook page and Twitter feed. We'll also be posting short video clips on our You Tube page. So make sure you subscribe there to stay updated!
All the best, safe travels and hakuna matata to all the riders and staff!
Bookings for Tour d'Afrique 2012 are steadily pouring in.
Don't miss your chance to participate in the 10th Tour d'Afrique. Register now!