Blog
REGISTER NOW
LOGIN
SIGN UP FOR OUR NEWSLETTER
Beach to Desert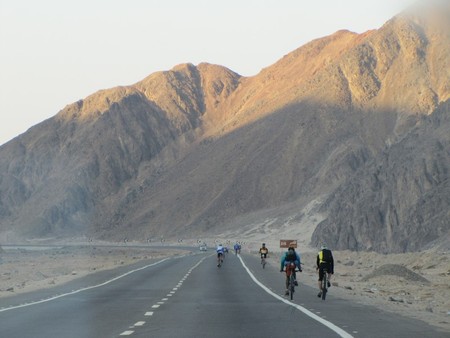 The 9th annual event of Tour D'Afrique is on the road as it slowly pushes into the legendary continent so it just warming up. We are only five days in, so still riders are creating their paces though most are still too fast. A part from a few long days, the days are almost cruising as the tour has been along Red Sea.
The sea was close enough for couple of days but there were no time or good place to swim, yesterday it was a short day which ended up at Safaga. The camp was on a nice beach. This was first time since Cairo that riders were able to shower, and for last time to see the ocean until southern Africa.
The morning schedule was just the same as always aside from the addition of Lindsay's birthday cake from last night which was too huge for one day. Then we get out of town and leave the coast as we turn right towards mountain ranges. It was a gradual climbing but the first climb since the begin of the tour. Some riders were challenged, but everyone enjoyed the amazing beauty. I think the climb was appropriate as it helped a lot to temper the run-away pace of the racers.
After the climb, which took all morning, there was down hill followed by flat terrain. Riders serpentine across the flat valley floor. Soon It was time to search for the lunch truck. Recent flooding covered the roads with sand, so the trucks were not on the exactly point 67km, then after desperate 2km on the 3rd corner the trucks came into view. It always a good rest during lunch time. In this time most are sure that they will make to camp so no more tense cycling.
We keep on rock and roll again after fill our bellies with sandwiches, oranges, and eggs. The desert was calm and empty though time to time it could show us how strong it is by revealing storms and prevailing headwinds which slow down our speed.
There were two coke stops, one soon after lunch and other 101km most choose to stop at 101km. The area was just that small local restaurant selling cold cokes, mosque, police check point and desert . Many racers took the time to stop and enjoy the quick stop. Baastien the racer who think to drop the race ideal and do it only in some stage said that it was the first time that he had really taken the time to slow down and experience Africa. Coke stops like these are what make many people look forward to rest days.
It isn't just a respite and a day away from the bike that rest days offer. TdA'ers are able to hone their cross-cultural communication over the small, serendipitous moments that come at coke stops and in camp on riding days. Rest days, like our upcoming day off in Luxor, offer riders to implement this knowledge and enjoy Africa on a very rare level.
– Elvis