Blog
REGISTER NOW
LOGIN
SIGN UP FOR OUR NEWSLETTER
Dream Tour Death Match!
You can dream… but will your dream survive?!  
Currently on our Dream Tours website we have three equally awesome tours of South America.  Also on our website is our own version,
The 
Vuelta 
Sudamericana
, starting in the fall.   
Which is better? 
Here's a quick breakdown of each tour, click the link for the full description:
Trans
–
South
America
–
Tip
to
Tip
:
If you visit our Dream Tours site often enough you'll notice there is a distinct preference for the word 'Trans' in the titles of tours.  I'm not actually sure 'trans' qualifies as a word but folks sure do like adding it to their tour descriptions.  But ambiguous naming aside this tour certainly has some potential. 
Challenges:
  Lots of climbing, very remote in some parts, weather.
Highlights:
    Salt Pans of Bolivia, the Andes, the amazing accomplishment.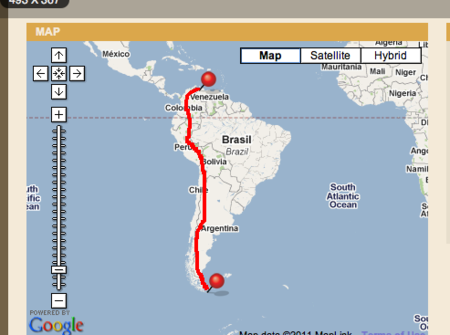 Time:
  6 months (180 days)
Start:
Caracas, Venuzuela
Support:
  Fully Supported 
My two cents:  I love the idea of cycling the continent from end to end but six months is a long time to be on tour.  It would be one heck of an epic ride though.  This tour would be as difficult, if not more difficult than our tour across Africa.  There will certainly be more climbing.  I've heard that the Salt pans of Bolivia are absolutely amazing.  This tour appeals to me for its diversity of landscape and riding conditions and because there is just something that makes sense about riding the continent from end to end.  Feels more complete that way.
Descent
into
Amazonia
Former TdA staffer and adventure guru Randy Pielsticker designed this one. He is also the man responsible for designing our current South American Tour, The Vuelta Sudamericana. 
The plan is to cycle from Quito to Manaus in 80 days. From the glacier capped volcanoes of the Andes to the belly of the confluence of the Rio Negro and the Amazon. 
Challenges:
  Remoteness, political situation, no one cycles thru Amazonia!
Highlights:
   Glacier capped volcanoes, The Amazon River, the mountains between Columbia
and Venezuela, no one cycles through Amazonia! 
Support:
  Fully supported, budget tour
Accomodations:
Camping
My 2 Cents:  Well knowing Randy this tour, even though it's short by our standards, will be epic.  It will travel through remote places and has a real 'explorers' feel to it.  Cycling through Amazonia will be brutal but worth it. 
Trans
–
Amazonian
There is that 'Trans' word again!  As the creator of the tour puts it: Beaches + Amazon + Andes = awesome.  This tour designer lives in Brazil.   Living in South American certainly has its advantages when designing a tour and Cristiano has put some thought in to this one.  This tour also travels to Manaus, Brazil but by boat, not bike, which is a nice element to add to the tour. 
Challenges:
  Not being distracted by the beautiful men and women of Brazil while you are cycling along the beach!, Climbing over the Andes. 
Highlights:
  The beaches of Brazil, cycling the remote Transamazonean Highway.  The decent into the Sacred Valley at Urcos.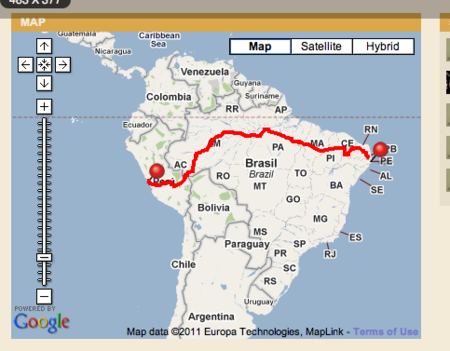 Distance:
approx 9000 kms
My 2 Cents:  I think this tour is deceivingly difficult. I'm also not sure it is actually 9000 km long or will take 3 months but that can be sorted out later.  My guess is it can be done in two months, or maybe two and a half. I like the idea of a boat ride along the Amazon as part of the tour.  Of course cycling over the Andes will be amazing and the decent into Sacred Valley sounds incredible.  Not my favorite of the 3 but since Cristiano lives in Brazil I have to think he knows something I don't. 
That's our match up for this week.  What do you think?  If I was giving you a free trip to do one of these tours, which one would you choose?  Is there something missing?  Where would you rather go?
Leave your ideas in the comments and help us bring one of these tours closer to reality. 
Get up to date news about all our tours by signing up for our monthly newsletter or by following us on Facebook.