Blog
REGISTER NOW
LOGIN
SIGN UP FOR OUR NEWSLETTER
First Day Done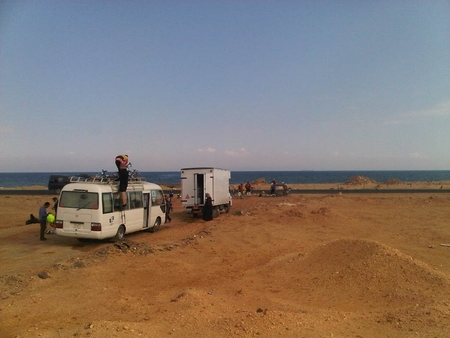 Whether it is your first day of school or first day of your new job or first day of your life, there are many unknowns which you must have faith will somehow become solved positively without too much anxiety or stress.
The first day of the TDA is no different. Each participant is a newcomer to what will be a very large experience in there lives. Will there be a little stress along the way? Most likely. That said this was indeed the first day of the TDA 2011 and if it is any sign it looks like this collection of cyclists will find a way to help each other out in reaching our destination of Cape Town in due time and with good spirit.
Our convoy out of Cairo included as always a stop at the Pyramids of Giza. Afterwards it was the usual battle to get out of the very busy city of Cairo. We took the ring road and eventually made our turn towards the Red Sea. Cold temperatures greeted our first lunch stop with most cyclists not sticking around too long as riding was the best way to keep warm. Compared to previous years people were lucky to have a strong tailwind that helped push them towards camp. Everyone arrived safe and sound. Luckily a giant meal of Spaghetti Bolognese had been prepared and we are sure a few stomachs are fuller than they have been in a long time. So, let us all see how Day 2 goes.