Blog
REGISTER NOW
LOGIN
SIGN UP FOR OUR NEWSLETTER
Sudan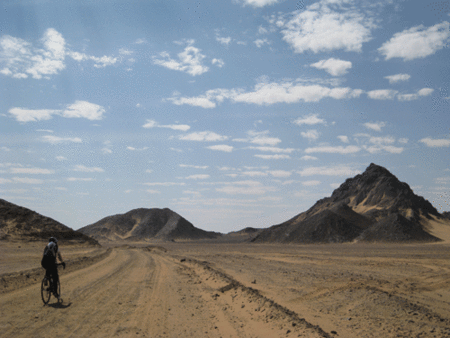 Our guide book tells us that the name Sudan means, "The Land of the Blacks." I assumed that this was a reference to the Sudanese people, but after riding for 150km on our first day in the country, I wonder if something has not been lost in translation.
Black stones dominate the desert landscape. At times it looks as if we are riding through massive heaps of coal, then the scenery changes and mountains of black boulders flank the roadway. We ride on a perfect ribbon of black asphalt, built by Chinese corporations hoping to find black gold that lays hidden thousands of meters under the black rocks of Sudan.
I choose to ride alone today, savouring the smooth pavement rolling under my tires. The combination of the desert, and my bicycle, offer the best possible environment for meditation and reflection. My solitary ride seemed to last forever, but was over before I was ready. Tomorrow, the desert will be mine again.
— Gabriel Altman