Blog
REGISTER NOW
LOGIN
SIGN UP FOR OUR NEWSLETTER
The First Day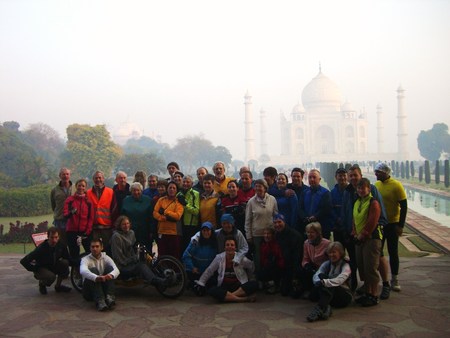 It all started long time ago with a thought. What if we started the Tour d'Afrique, Cairo to Cape Town, at one of the wonders of the world, the Pyramids? It was just a thought, as I never expected it to happen. I did not expect that a small group of cyclists would be able to finagle a permit to stand with their bikes in front of the pyramids with the Sphinx, who must have seen a lot of things in his thousands of years watch, but 30 odd crazy cyclists starting their long journey down a continent was to be a first for him. But permission we got, and as often happens in life, when you get lucky, you start thinking "what is next?"
Well, next was a group picture for the inaugural Orient Express – a picture in front of the Eiffel tower. That turned out to be easy as there was no permit required. Next in line was the inaugural Silk Route Expedition. We stood on the shore of the Bosporus with Hagia Sofia shining in the early morning, but here again that was simple as no permit was required. More difficult, we were told, impossible to do, in fact, would be the final picture of that expedition on the main road in Tiananmen Square with Mao looking on. We were told several times that this was a no-no. No traffic is ever stopped for any reasons. But after a four month journey filled up with unbelievable challenges, we were not to be pushed aside easily and for an hour we posed and took pictures with Mao blinking in approval.
Our company's next big epic was from Rio to Quito. There were two iconic images that we discussed for the start of the tour – the Copa Cabana beach or Christ the Redeemer. Copa Cabana won simply because our hotel was there.
So this morning we were full of confidence that we would be standing with a bike or two in front of the most magnificent building in the world, the Taj Mahal. But all good things must come to an end and, in spite of all our efforts, the Indian bureaucracy won. Not only we were not allowed to take even one bike into the compound, we were not even allowed to take our helmets in. So there we stood for a group picture, with the first rays hitting the Taj Mahal, without the bikes or the helmets. But though we may have been defeated, one of our riders was not. Morgan managed what the rest of us did not and if you look at the group picture you will see Morgan sitting in her brand new hand-cycle.
And after the picture taking we were off through the chaotic traffic of Agra to a cozy hotel in Bhaaratpur were I now sit composing this email and sipping on an glass of beer while every one is sitting around the bonfire.