Blog
REGISTER NOW
LOGIN
SIGN UP FOR OUR NEWSLETTER
Welcome to the TDA!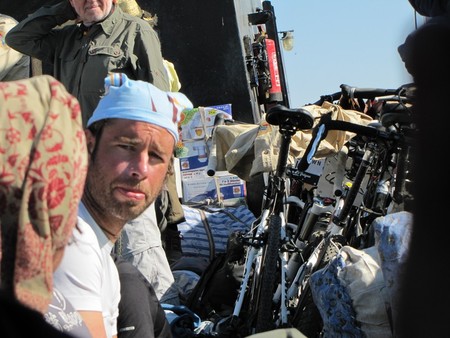 The long ferry trip that takes you from Egypt to Sudan across Lake Nasser is no ordinary experience. No, this is not a five star Nile cruise; this is but a small window into the lives of the locals along our route. Cultural immersion TDA style.
Our ride out of Aswan was a 15 km convoy to the port, and since we didn't bring our trucks into Egypt this year, we expected the process to be a little more complicated and painful than it usually is. All our gear had to be carried onto the ferry, and the riders, who usually bring only their bicycles and a daily backpack, had to drag all their bags, spare tires, rims and who knows what else with them. Until the last minute, no one knew if we would be allowed to bring the luggage truck close to the ferry past the security gate, or if the police would want each rider to bring all their belongings with them through all the search steps you would normally go through. Luckily, with a little patience and all the experience of the veteran staff members, we were able to park the truck only a few meters from the ferry and after some trips up and down, everything we carry on our nomad cycling camp was safely taken onto the boat.
The little ferry had only 24 cabins. Tour d'Afrique took them all. The whole process went fine (except for the chaotic start where we struggled with all our things through the tiny hallways with locals carrying freezers, televisions, stoves and everything else you can imagine). It's interesting how they take care of the foreigners, almost always getting out of the way and letting us cut the queue line. Tour Leaders Sharita and Miles, both very experienced on this route, didn't think twice before saying this was their best trip on the ferry to this date. The boat was crowded, EFI (Every Fabulous Inch) taken, but all riders were very patient and every now and then someone would say "now it feels like Africa, I am loving this". Good, because it was a long 30 hours from one camp to the other, and less than 20 km of actual riding.
Our arrival in Hadi Walfa was a breath of fresh air. We put the noise and energy of Egypt behind us and took our first strokes into Sudan. Welcome to the Tour d'Afrique! A warm pleasant breeze swept alongside us as the locals waved and greeted. Meeting our trucks and getting to our proper system was like a gift both to riders and staff, a deserved treat after the long trip. An overwhelming quiet fell over the camp as the endless stars of the desert filled the sky. Welcome to the Sudan!
— Cristiano Werneck