Blog
REGISTER NOW
LOGIN
SIGN UP FOR OUR NEWSLETTER
Bike Donation in Bahir Dar, Ethiopia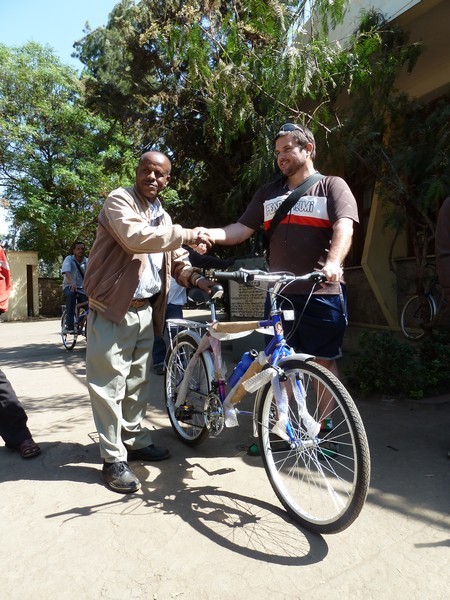 It was a short ride from Gondar to Bahir Dar, Ethiopia. Just two riding days and a total of 180 kms or so. Bahir Dar is located on the banks of Lake Tana, source of the Blue Nile and a popular tourist attraction because of its proximity to the Blue Nile waterfalls and for the ancient coptic monesteries on the islands in the middle of the lake. An easy 60 km day into Bahir Dar meant riders had plenty of time to relax and we held our fifth annual Bahir Dar costume party on the evening we arrived. This years theme was 'Where are you go?" and riders came to the party decked out in all kinds of crazy apparel.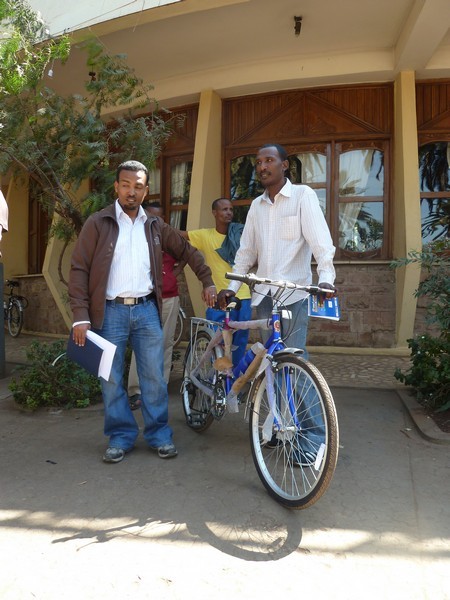 On the rest day we held our second bike donation ceremony of the 2011 tour and our first donation ever in Bahir Dar. The TdA Foundation donated 20 bikes to the Anti Malarial Association (AMA) for use in their out reach programs in the region. The AMA was founded by Abere Mihretie in 1998 in response to a severe malaria outbreak in the western part of Ethiopia. They deployed hundreds of volunteers to distribute anti-malarial drugs, bed nets and provide education on the control and treatment of malaria. Their approach was so successful that several years later the AMA, in response to requests from various communities, decided to expand its programs to include other critical health issues in the country.
Today the AMA has five main focuses:
Anti-Malaria: AMA works closely with the Ministry of Health to distribute medicine during outbreaks and holds community education sessions, using film, drama and printed material, about malaria prevention year round.
HIV/AIDS outreach: AMA hosts education sessions through peer networks and provides care and support for orphans through its various youth centers
Sanitation and Hygiene: AMA pioneered the first pit latrine development program in Ethiopia that is now widely used by the Ministry of Health. The organization also teaches communities how to improve traditional water sources and dig protected wells.
Reproductive Health: AMA works with Kabale Health Workers (KHWs) to provide pre and post natal care and education in rural areas.
Climate and Health: AMA works with South Dakota University and Columbia University to develop climate models to predict disease outbreaks.
AMA works in five zonal offices that support 480 volunteers in 39 Woredas (The health system in Ethiopia is divided into 9 Regions, each region is divided into Zones and each Zone into Woredas. Woredas are futher divided into Kabeles. A typical Kabele will have around 500 households with an average of 5 people per house hold). Each AMA volunteer is responsible for a population of about 2500 people.
The bikes we donated will be used by AMA volunteers to travel to the communities they serves and provide various health education services and interventions. We were very impressed by both the commitment and organization of the AMA and we look forward to expanding our relationship with them in the future.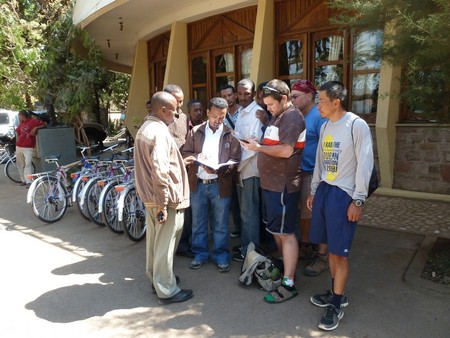 If you'd like to find out more about the Anti Malaria Association or the Tour d'Afrique Foundation you can contact Foundation director Paul McManus at paul@tourdafrique.com, or visit our website: www.tourdafrique.com and visit our foundation page.