Blog
REGISTER NOW
LOGIN
SIGN UP FOR OUR NEWSLETTER
Heat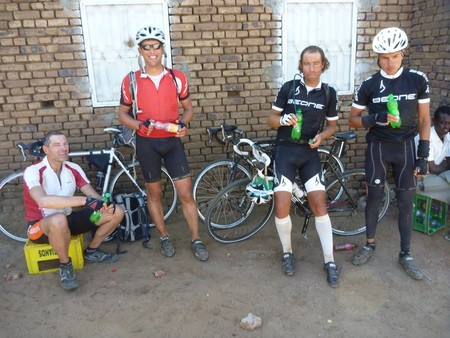 Heat has finally caught up with the tour. Coke stops, once a luxury, are now a necessity. It's easy to find a good Coke stop, just look for the neon spandex and our riders will be there. We don't exactly blend in with the locals. Bliss, in the form of a cold bottle of mango juice, can be had for only a few Sudanese Pounds. There isn't any ice, but I doubt that anyone minds. Even a warm bottle of Coke is refreshing after drinking hot water from the bottles on our bicycles.
Staying hydrated is a matter of medical safety in heat like this, and it's hard to do. For my own part, I drank 4.5L of water riding from the lunch stop to our camp site. It wasn't enough. My bottle is my constant companion, both on the bike and back at camp. Our medics have been keeping tabs on all of us, issuing sachets of rehydration salts as well as constant reminders to keep drinking.
The heat comes on quickly in the semi-arid landscape south of Khartoum. When lunch begins at 10am, the day is still pleasantly warm. Noon brings the first realization that things are going to get hot. By 1:00pm, the sun is blazing and the temperature soars. How hot is it? The riders take guesses. 33, 34, 37? Who can say? At 2:00pm, things get seriously hot. It feels like riding in front of a giant hair dryer while roasting under a heat lamp. Mind you, this is not a complaint but a statement of fact. In this dry heat road kill doesn't rot, it mummifies.
Riding in these conditions bonds the members of our group together as we have all experienced a common form of suffering. Spending an hour in the shade, while enjoying a cool drink, is the perfect setting for getting to know your fellow riders. We ride together for mutual support on these challenging days. How sweet it sounds when your riding partner calls out, "only 2k to go." And when you see that orange finish line flag on the side of the road with it's promises of good food, rest, and comradeship, you look at your partner and smile. "We made it!"
— Gabriel Altman