Blog
REGISTER NOW
LOGIN
SIGN UP FOR OUR NEWSLETTER
Henry Takes the Bus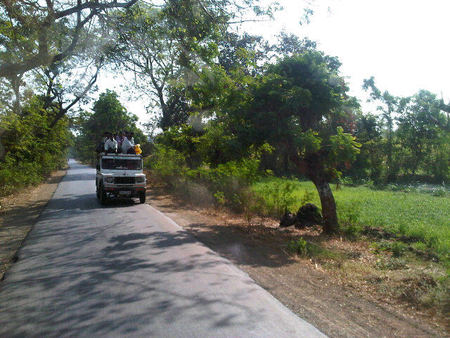 I have to thank Urbane Cycle shop in Toronto for today's adventure.
A word of explanation; a week before I left for India I took my bike to the shop and told the mechanic that I am going for a 4,000km bike trip and that he should look at what needs to be done on the bike and fix it.
I left a couple of hundred dollars at the shop. Urbane Cycle packed the bike.
I unpacked the bike in Delhi and it has given me problems from day one. Today was day ten of the ride and a new problem with the bike arose. My chain broke 5km into the ride. I did not have a chain braker tool with me for repair and our support vehicles were long gone. The easiest thing to do was to try to make my own way to Uidapur.
Within five minutes I managed to stop a local bus, and my bike was quickly resting on a roof. No, the bike did not fall of the roof, nor anything catastrophic happened. In fact nothing happened. I had a slow four hour bus ride.
Anyone who has traveled on public transport in 3rd world countries knows that buses fill up and then two stops later empty out. That gives someone like me who was in for an 80km ride an ample opportunity for people watching.
And so one by one, the seat beside me was occupied. First it was an eight year girl, with a pretty smile who could hardly contain her excitement sitting beside a tall unshaven foreigner. When the bus overtook a couple of our cyclists, she pulled my shirt, to make sure that I did not miss them.
When she got off, an older gentleman got on. Before he sat down, brought his hands together in a typical Indian fashion, bowed and sat down. After him came a striking young woman with a lovely traditional red dress holding a jerry can with an overpowering smell of gas. My emotions switched between a attempting to steal long sideways looks to being overwhelmed by the stench of gas.
At the next stop the bus filled with bunch of teenagers in uniform both males and females and when I checked my Blackberry for a message, I heard one of them saying something "Blackberry …..". Yes, even in remote areas of India people know what a Blackberry looks like.
It was not long after, when a man with two big earrings in his ears, a colorful turban on his head and exquisite features that you would expect Michelangelo sculpted, was arguing with the teenagers.  But it all ended without screaming or loud abuse. And so it went, slim women holding babies whose faces have dark paint under their eyes (see/think baseball and footballplayers wearing black paint under their eyes), shy children, some attempting to make contact with the foreigner, old men and women in traditional dresses, young men in leather jackets.
After about three hours I needed a bathroom stop but there was no bathroom stops planned, not at least as far as I could tell. So at one stop, being rather uncomfortable, I made an impulsive decision, put my helmet on my seat and lunged towards the exit.
When relieving myself, I suddenly realized that my Blackberry was left on the seat, in my helmet. The bus waited, and so did my Blackberry, highly visible but not touched. I sat back in my seat and continued my ride to Uidapur, a city made famous for its beautiful palaces, a romantic man made lake and even a James Bond movie.