Blog
REGISTER NOW
LOGIN
SIGN UP FOR OUR NEWSLETTER
TdA Race Update – Ethiopian Highlands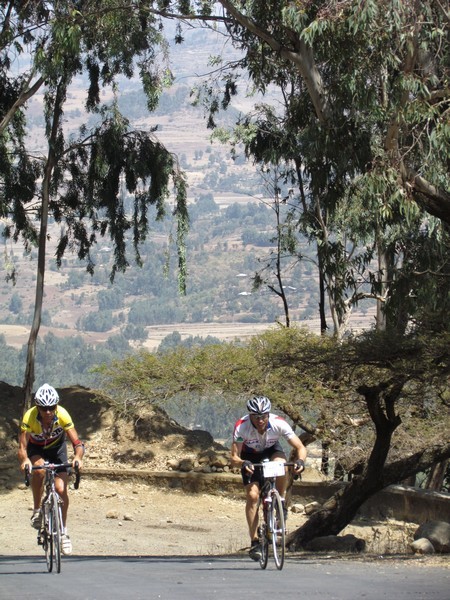 Race Leaders Paul Wolfe and Horst Schlenker battle on the final climb up to the Goha Hotel in Gondar on Mando Stage #23.
For the past week the racers have been slogging up and sailing down the Ethiopian Highlands, having left the heat and off road days in Eastern Sudan behind. After 26 stages and 3097 km, the 2011 TdA Race is becoming a battle between 2 wily cycling veterans, 57 year old Canadian Paul Wolfe and 48 year old German Horst Schlenker. Currently Paul holds a 1 hour 50 minute lead, built largely on his having outsprinted Horst on each of 3 mando stages so far, netting him a total of 90 minutes in time bonuses.
Another German rider, Dennis Kipphardt, sits in 3rd, 6 hours behind Horst. British Mountain Biker Paul Spencer is 4th having won several of the off road stages in Sudan, but he will be hard pressed to make up the gap on the leaders. Among the women another Canadian, Tori Fahey, is proving to be the class of the field. She currently holds a 14+ hour advantage over her closest competitor.
Tomorrow is one of the highlights of the Tour and the Race – the infamous Blue Nile Gorge. After cruising down 1300 meters in 13 kms of hairpin turns, the Time Trial starts on the other side of the bridge at the bottom. From there its a 1500 meter gain in elevation in just 15 km back up to the top of the Gorge – the biggest and steepest climb that many of the tour participants will ever experience. in 2009 South African Allan Benn set the record for the time trial at 1 hour 19 1/2 minutes.
If you are interested in following the race you can find the official overall standings, as well as the stage by stage, and section by section results here.