Blog
REGISTER NOW
LOGIN
SIGN UP FOR OUR NEWSLETTER
The Curse of Modern Power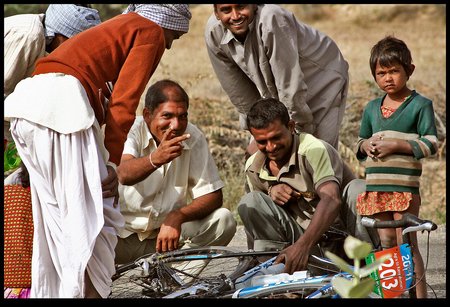 No, this is not another diatribe about authoritarian regimes, Kafkaesque bureaucracy or religious coercion. We are in the country side of the state of Gujarat, far from the hustle and the bustle of city or even small town noise, or so we thought. It is Sunday evening and we are staying in the Jambughoda Palace. A Palace it isn't, but it is not a bad place to have a rest day.
At the entrance there is a sign 'For Nature Lovers'.  The place is filled with greenery, the birds are chirping away. After a great dinner, one of our cyclists commented on the peacefulness of the place.
Tomorrow many of us are planning a visit to the Champagner ruins, a UNESCO site which includes a spectacular a 16th century Jama Masjid. Some plan to also visit the 11th century Lakulish Temple and the important pilgrimage site of Kalika
Mata which sits on top of an impressive mountain and is dedicated to the goddess Kali.
After the theme costume party in which we were all supposed to dress up as anything that starts with P – there was a pirate, a couple of pregnant cyclists expecting any minute, Peperman from Pushkar, a pimple and even a person who was dressed as a palm tree with several coconuts, we went to sleep at, for us, a late hour. By 11PM we were all sleeping.
Not too long after, I hear in my not so deep sleep, some sounds, as if someone is tuning an instrument and testing a speaker. I think that this is a part of my dream, but soon enough I am fully awake and listening to loud Indian music, sounding like it is coming from only 100 feet away. I do not know whether this is part of a religious ritual, a festival of some kind, a late wedding celebration or someone practicing for his stage performance. All I know that without the electronic wattage that did not exist 50 years ago, I would be now soundly asleep instead of writing this.
This is not the first time that I have had the misfortune of lying in bed in a strange part of the world being bombarded by too many watts of music. All of us who have had the opportunity to travel through Moslem countries can attest to waking up to an overwhelming display of power emanating from the nearest and not so near mosques.
Years ago, on our inaugural Orient Express, when we arrived at a campsite in Timosoara, the birthplace of the revolution that overthrew Ceausescu, there was a wedding that started in late afternoon and went into the early morning. There is nothing unusual about that. What was unusual that the speakers used for the wedding were probably on loan from the Rolling Stones.
What puzzles me is, what is it about human nature that has this need to make sure that the astronauts orbiting in space station can enjoy their music? And music is not the only attention grabber as anyone who witnessed the firecrackers displays on our Silk Route tour can attest.  To paraphrase Shakespeare 'I make music or noise, therefore I am'.
What used to be wonderful soothing music or call to prayers not so long ago has turned into an obnoxious display of noise that shakes buildings to their foundations.
And just as suddenly as the music started, so a couple of hours or so later it stopped, and I was able to get back to sleep.
In the morning to my great surprise I meet a cheerful smiling group of cyclists, some simply accepting the music as just another cultural experience, other missing the whole thing and wondering what all the fuss is about.