Blog
REGISTER NOW
LOGIN
SIGN UP FOR OUR NEWSLETTER
Things to do in Flagstaff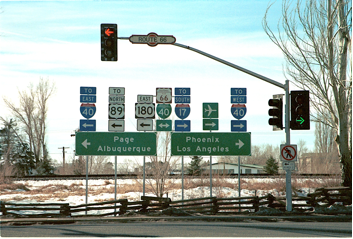 At a cross roads with historic route 66 and a mere 1500 kms into our 8000 km bike ride across North America we will arrive at our third rest day in Flagstaff.
Flagstaff is well know as the jumping off point to see one of the great natural wonders of the world, the Grand Canyon, but since we will be cycling to the canyon the day after the rest day you might be curious what else there is to do in this desert city.
Turns out there is quite a bit.
Here's a short list:
Hang out downtown:
A big part of Flagstaff's charm is it's unchanging nature.
In the old part of Flagstaff, on both sides of the railroad tracks (the train still blows through town regularly), are buildings with lovely old architecture, and some very good restaurants.
Macy's (
http
://
www
.
macyscoffee
.
net
/
) has a long-time tradition for excellent coffee and the "best breakfast" in town.
The Beaver Street Brewery (
http
://
www
.
beaverstreetbrewery
.
com
/
), another Flagstaff tradition, is right across the street and I'm told a great spot for lunch.
Visit a honky tonk:
If you're looking for a little local color and maybe a bit of adventure check out The Museum Club east of town.
There's live western music, lots of real and pretend cowboys and a tree growing out of the building.
Visit the National Monuments nearby:
There are a lot of natural wonders in the area:
Walnut
Canyon
(cliff dwellings),
Sunset
Crater
(lava fields),
Wupatki
(old pueblo),
Toozigoot
(another ancient pueblo) and
Montezuma
Castle
(cliff dwellings) are a few to consider checking out.
And if you still have some energy left at the end of the day go star gazing at the famous
Lowell
Observatory
.
Further away:
Visit Sedona, AZ about 50 km south of Flagstaff and go on a Pink Jeep Tour.
Pink Jeep Tours (
http
://
www
.
pinkjeep
.
com
/
come highly recommended, especially their off road Broken Arrow jeep tour.
Those are a few of the things you can do on the rest day in Flagstaff.
But don't forget to get some rest too because when we leave town we will be riding to the Grand Canyon, through the
Painted
Desert
and on to our fourth rest day in
Monument
Valley
.
Life is good!