Blog
REGISTER NOW
LOGIN
SIGN UP FOR OUR NEWSLETTER
Border to the Beach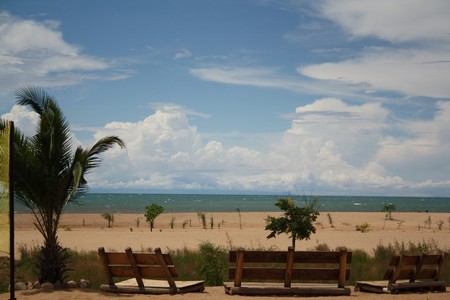 Today is our first riding day in Malawi. It's a beautiful one too. Our route takes us right by the northern part of the lake. We're bound for a little place called Chitimba Beach – right on Lake Malawi.
As I ride I am amazed at the number of people on bicycles. I think the people of Malawi realize how convenient, low cost and efficient the bicycle is as a means of transport.
As I ride I greet many people but there's two local cyclists that I have a good conversation with as I ride. The first is called David. David is off for a job interview at a restaurant in the next village. He's a good rider and his bike makes less noise than mine and we ride together until we're at his destination.
The other is Laka. Laka is riding side saddle with her husband doing the pedalling. Baby Pauline is strapped to Laka's back with a piece of cloth. The whole family is literally able to ride on one bicycle. They are off to the medical clinic. Baby Pauline has been sick with a nasty cough for 3 days and needs to see a doctor and get some medicine.
They both ask where I'm going and when I tell them "Chitimba" they are surprised. To them it seems like a long way to pedal in a day but us crazy Mzungus are used to it now.
— Claire Pegler