Blog
REGISTER NOW
LOGIN
SIGN UP FOR OUR NEWSLETTER
Hand bike donation in Mumbai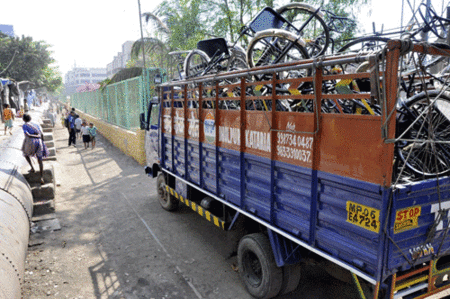 hand bikes arrive for the ceremony
On Sunday February 20th, in conjunction with the Dirty Wall Project, 40 hand cycles were donated by Tour d'Afrique to deserving recipients, those with severe disabilities ranging from amputations to severely deformed limbs, in a touching and colourful ceremony in the Saki Naka district of Mumbai. Some recipients came from tribal areas in the back of a truck (a three hour journey without cushions on bumpy roads). The truck was too large to drive into the slum so these people had to make their own way from the road, through gravel and garbage, pulling and pushing themselves to get to the location where the ceremony was being held. Others live in the city and were brought by friends and relatives but all were thrilled to be receiving their bikes.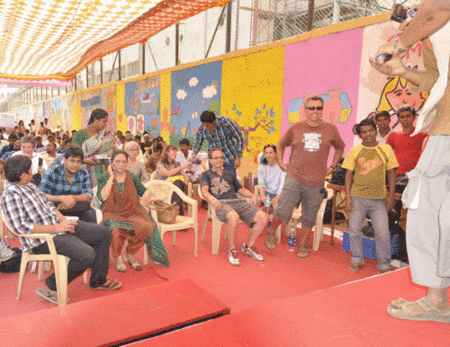 a good crowd showed up for the donations
The founder of the project, Kane Ryan, reports that one of the recipients, Kamala Balappa, has since started her own small business selling small goods using her new hand cycle. She phoned very excited about her new business. He recently went to the tribal village of Lavhali and spoke to three men who received bikes. All were very excited to have mobility around their village. The distance between villages can be between 5 -10 km's and in 45C heat so these men are very thankful to be able to cover that distance much quicker than before.  And just recently he was passed my a man in one of thehand bikes in Saki Naka. Months ago Kane first saw this man dragging himself along the ground, so to see him cruising the streets with dignity was pretty amazing and made the ceremony worth while.
More photos of this event can be seen here.