Blog
REGISTER NOW
LOGIN
SIGN UP FOR OUR NEWSLETTER
Masai Steppe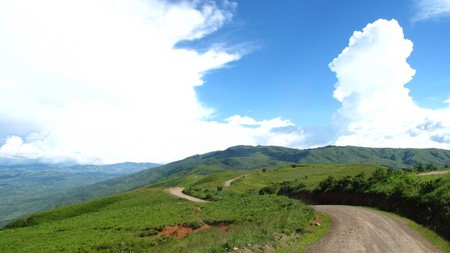 The last 8 days of the Tour d'Afrique 2011 have been exhausting. The new route from Arusha to Mbeya is spectacular, but not easy.
Out of the 950 km ridden, only 200 were paved, and the rain was refreshing on us but bad on the roads. The GPS on the truck recognized the road and adviced us on its screen: "road not recommended". Well, we can only recommend it, on the bicycles it was lots of fun. Very little traffic, a few villages and farms, a beautiful game reserve, friendly locals and lots of green made it all worth it.
Everyone had their biggest tires on their bicycles. Rain, mud, gravel, sand, climbs, heat and cold were pushing almost 100 people to their limits. Trucks got stuck, every single brake pad got worn, EFIs (2) got lost, but everyone rolled into camp happy and safe on the last stage of one of the hardest sections of the Tour, the Masai Steppe.
The last day of this stretch, into Mbeya, with a long climb up to 2476 meters under a sunny sky was absolutely beautiful, but riders considered it harder than the Blue Nile Gorge climb, in Ethiopia.
After a rest day in Mbeya, the tour goes into Malawi. Right now, washing lines and computers online are all over the camp, as always on rest days. Riders are happy to be back on the tarmac, and can't wait to step on the sand of the magnificent Lake Malawi, only a few days ahead.
The Tour d'Afrique 2011 keeps rolling!
— Cristiano Werneck