Blog
REGISTER NOW
LOGIN
SIGN UP FOR OUR NEWSLETTER
Night Fun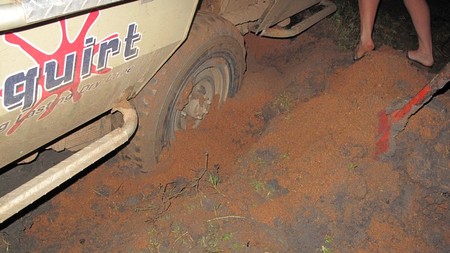 It was 15 minutes before dinner when the sky got really ugly. We were ready! All day long it had changed many times, from cloudy to sunny, and we knew what was coming at some point. The road was still muddy from yesterday and as soon as we set up camp our 3 bike mechanics opened the bike shop and started repairing broken drive trains, changing cables, replacing dozens of break pads and so on. Usually, that happens only from 4 to 5 on the afternoon and it is usually one mechanic, but the damage from the wet riding conditions was huge.
As soon as everyone got in the queue for dinner the rain poured down. People were dashing and running to get under one of the big tarps and it was impossible to keep anything dry. Mud was all over the place but people were still laughing and joking and in a good mood. The riding had been great and dinner was delicious.
Tour Leader Sharita got in the Land Cruiser as soon as she finished eating and left in the Land Cruiser (a warm and dry place) to go into town on her mission of filling the water trailer that one of the trucks pulls. Depending on the pressure of the hose, it can take hours to fill but since it wasn't totally empty it wouldn't take so long. We cleaned up the kitchen, got everything ready for tomorrow, set up our tents, and as we were heading to bed, we saw the lights of our captain coming back in the Cruiser, nicknamed "Bakkie", what the Afrikaners call the 4x4s. We saw her gaining speed to try to make it through the mud but all of a sudden she stopped and we all knew what that meant. It wasn't bed time any more.
We made our way towards her only to find the car and the 800 litre water trailer stuck in the mud. Shovel here, dig there, and someone managed to find Livingstone, who drives the other Land Cruiser that we just hired for this stretch. He was around in camp but his tent could be any of the almost 100 tents spread all over our completely dark nomad village. With the help of a rope, we managed to pull both the "bakkie" and the trailer out of the muck and then we could finally go to bed. Just a little bit muddier.
The fun goes on. It's just the beginning of a promising week.
— Cristiano Werneck