Blog
REGISTER NOW
LOGIN
SIGN UP FOR OUR NEWSLETTER
The Meltdown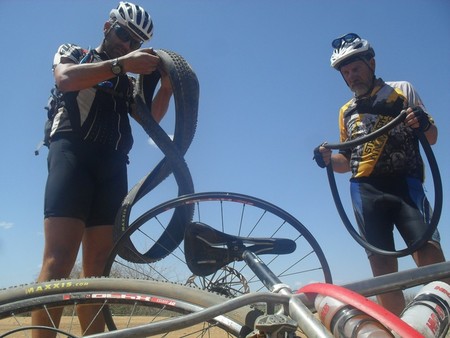 The Meltdown Madness of northern Kenya has officially begun with the first day out of the border town of Moyale. The riders are riding the long, dusty, hot, thorny, and very bumpy ride to Sololo our first stop on the way to Marsabit, the first rest day in Kenya.
Man and machine are beginning to feel the challenges of the gravel road. The road itself is so bumpy. It feels like sitting on a massage chair on full blast. Adding insult to injury, the big cattle trucks transporting livestock from Moyale to other parts of the country pass you at a speed of 100kph – leaving in their wake lots of dust and small pebbles which hit you. You feel like your skin is melting.
The thorns are back, this time they are three times as long as the ones we experienced in Sudan. They are everywhere, on the main road and even on the foot path that runs alongside, which some of the riders took to avoid the bumpiness on the main road.
Losing a water bottle on the Meltdown feels like losing one of the most important component of your bike because dehydration is always a threat in this heat of northern Kenya. Makes you remember the running water from your tap at home and the other things we take for granted.
Something to think about.