Blog
REGISTER NOW
LOGIN
SIGN UP FOR OUR NEWSLETTER
Thoughts on the Foundation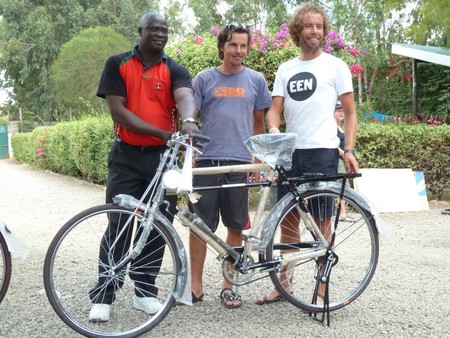 Every morning we get on our bicycles and ride to the experience challenge and joy of participating in the Tour d'Afrique. While we saddle up and clip in, millions of Africans are climbing on their bicycles to for an entirely different set of reasons. For these local cyclists, a bicycle is neither a diversion from the daily grind nor a means to improve their fitness. African cyclists use their bicycles as powerful tools to increase their economic well being by gaining access to distant markets for their products, or to travel from remote villages to receive medical treatment at clinics located far beyond walking distance.
I have seen women carrying firewood to cook their food and to heat their homes, their backs bent over as they struggle bear their burden. Today, I met a woman who uses her bicycle to carry the load. She can carry more wood further, and with much less effort, allowing her to use her time for other tasks. A sugarcane vender arrived at our campsite to sell his treats to the people who had gathered to watch both our campsite and the local soccer match. His bicycle had an enormous bundle of canes tied to the carrier, far more than could be hauled on his back. Had he not owned a bicycle, he would have worked much harder and sold far fewer canes. I saw a man whose bicycle was piled high with plastic crates full of Coke, which he was delivering to local shops. He told me that it was possible for him to deliver ten cases of drinks to any shop within ten kilometers. Without a bicycle, this would be an impossible task.
Yesterday the Tour d'Afrique Foundation donated 60 bicycles to a group that supports women living with AIDS. For these women, a bicycle is the means for them to receive the medications that keep them alive.
The cost of bicycle ownership in Africa is surprisingly low. There is no need for petrol, and spare parts are readily available, as is the expertise needed to keep the machines rolling. Their impact on the lives of the people is far out of proportion to their cost. What I have seen has motivated me to donate to the Tour d'Afrique Foundation.
Even with the meager wages I earn as a bicycle mechanic, I am pledging to donate 1 bicycle through the foundation before I leave Africa. I challenge you to join me in making a very tangible and lasting impact on the life of a fellow human being.
— Gabe Altman