Blog
REGISTER NOW
LOGIN
SIGN UP FOR OUR NEWSLETTER
Another great dinner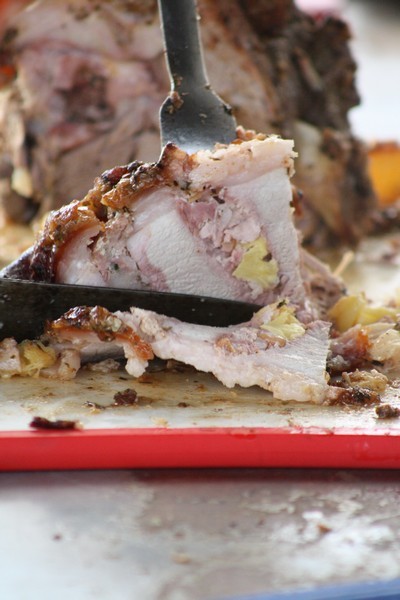 Another great dinner on the Tour d'Afrique 2011 that deserves to be shared. Tonight, Kim and Ferdi's every-pot-in-the kitchen-used menu for the day. Stuffed apple and pineapple roasted Pork, corn on the cob, broccoli and cauliflower with a creamy parmesan and oregano sauce, honey glazed carrots, roasted potatoes and for the veggie option, garlic baby potatoes and peppers with soya meat stir fry.
Stuffed Apple & Pineapple Roasted Pork

At home On the road with TDA
1 kg of pork roast 20 kg of superior pork roast
4 spoons of barbecue spice 2 packages
20 ml of Worstershire sauce 400 ml
1/2 cup of olive oil 2 cups
4 tablespoons crashed garlic 2 bottles
2 tablespoons of parsley 1 box
1 tin of pineapple rings 6 tins
1 tablespoon of rosemary 1 box
1 tablespoon of thyme 6 tablespoons
½ tin of apple slices 6 tins
1 package of streaky bacon 12
10 baby potatoes 4 kg
2 to 3 cups of red wine 2 bottles
1 package of roast gravy sauce 30 packages
Preparation
Start of by taking a knife to the pork, making as many holes as possible. Put roast to one side.
Mix the barbecues spice, olive oil, worstershire sauce, garlic, parsley, thyme and rosemary together. Stuff the pork with the pineapple, the apple and the bacon strips in the already made holes, not forgetting to add a little bit of spice as you go. When it is stuffed to its capacity and can take no more, rub the remaining spice mix all over the pork. Place the pork roast on a bed of potatoes in your oven pot, add the juice from the pineapple and apples, add a little bit of water, cover and bake it in the oven at 180 degrees for about 3 to 4 hours, adding water when needed.
Gravy: When pork roast is cooked, to your satisfaction, remove from pot with potatoes and add about 3 to 4 cups of wine, depending on the amount of liquid left, together with one package of roasted meat gravy. Reduce the sauce and serve!
TDA method
Same as above, larger quantities needed. Loads more stuffing and poking, bigger pots and a hotter fire.
PS: Don't forget to start the fire before you start the poking. Put pot on coals, bring to the boil and then reduce heat at the bottom and add coals on the top of lift, creating our very own bush oven.
Cooking time: 5-6 hours