Blog
REGISTER NOW
LOGIN
SIGN UP FOR OUR NEWSLETTER
Mathias, our Madhatter, Mountain, Medic.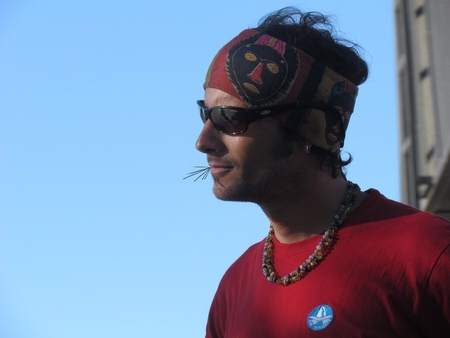 Feeling as a child that every other family vacation must be way cooler than yours, is evidently a feeling which escapes none. Growing up in Entlebush, in the foothills of the Alps, Mathias Hediger spend years of his childhood trudging his way through yet another family mountaineering trip with his two brothers and sister. The foundation of what is now central to his livelihood and lifestyle,was learnt from his father, a talented mountaineer with numerous first ascents. Whether he could realize it at the time, this was the beginning of a life in the mountains.
After finishing school, Mathias spent two years learning carpentry and apprenticing in his father's wood-working shop until he had to serve his time in the Swiss Army. Having the mountaineering background that he did, Mathias was quickly pulled aside as a mountain specialist. Spending more time with the mountain guides hired to train him got him thinking that maybe that this might be the job for him.
Wasting no time in following that dream, Mathais headed straight for Andermalt, one of Switzerlands biggest resorts to become first, a ski instructor, and then a mountain guide. Guiding and teaching in the Alps for a number of years, his work came to take him overseas. First to Norway, Sweden, and then to the USA, India and New Zealand. New Zealand turned out to be more of an adventure than planned. The snow turned out to be insufficient that season so Mathias headed out to sea. Finding himself working on a fishing boat headed for the Antarctic was just the beginning of his ocean bound adventures.
Upon returning home to find he would have to wait a year before beginning his paramedic school, he wasn't about to sit around and wait. Within 24 hours of hearing this news, he was on his way. Mathias spent the next two months, co-captaining a 2 month, 2 man sailing trip, his co-captain was a paraplegic. The trip had to end slightly short due to medical reasons with his sailing partner but Mathais continued to work and play on classic yachts until it was eventually time to head home.
Keeping Mathias in one place was never never an easy task however. Where was he within 2 weeks of finishing his 4 years of paramedic school? Working for the largest, private air rescue company in Namibia.
Now back at home in Luzern, between running his own private mountain guiding business and working as a paramedic, Mathias also works for Air Zermatt helicopter rescue company operating in south western Switzerland. There he works not only on mountain rescues but also teaches these skills as a part of a Diploma in Emergency Mountain Medicine.
Here on tour we're not sure what we'd do without him. If we're lucky enough to not need stitches from the ride, he'll have us in stitches laughing in no time. Managing the tour's medical needs, both big and small, working endlessly at times to put us all back together, you will still be hard pressed to find him without a smile on his face.
If there's anyone getting voted off this island, it is most certainly not this ducky.