Blog
REGISTER NOW
LOGIN
SIGN UP FOR OUR NEWSLETTER
Meet the TDA staff – Claire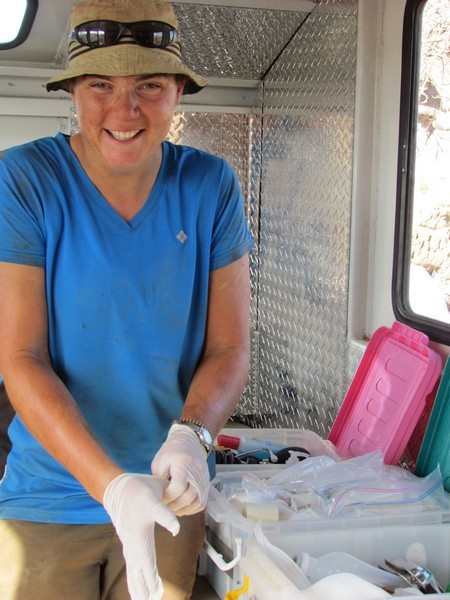 Claire Pegler, Nurse
People often ask me as a person who has ridden this very same bicycle tour as a client "how do you like being back here working"? One of the other staff members the other day asked me "which do you think is harder?"
And it definitely is a different experience being a staff member on this tour. I think I like it better. One of the things I struggled with as a rider was how much I was "spoonfed". All I had to do was ride my bike everyday. All day. It definitely was physically demanding – there's no denying that. The basic essentials in life – food, water, shelter were all taken care of for me. All I had to worry about is making sure I could get to camp (preferably not too late so I could help with all the chopping in the kitchen!). One of my biggest frustrations was that I did not have any real concerns (apart from what to do with this wonderful thing called life when I return back home) – sometimes I felt as if my brain was slowly turning off with nothing but pedaling to think about.
Working as a medic on the tour definitely keeps my brain busy. For me it is the first time I have ever worked outside of a hospital, the first time I have been away from all sorts of important resources, diagnostic tools, a pathology lab, more senior nurses and doctors who are always willing to answer my questions and improve my knowledge base. There's a lot to learn and I find I am learning fast.
As well as running our little medical clinic I also have a lot of other duties to do which change from day to day. We go through our roster: working in the kitchen chopping an endless pile of vegetables, digging giant holes and putting up the toilet tents, taking lots of photos and writing the web update, running lunch as a bunch of starving cyclists pull through, figuring out what to do with all the garbage we create, and dealing with all the dramas from the back while riding sweep. On "rest days" the trucks always need cleaning, food restocking and repacking. The work is never ending. The hours are long – the day starts at 4:30am and usually finishes at 8pm. During the night I am always on call – any medical dramas my tent is the one covered in orange flagging tape.
People ask me "do you think you'll be back here doing this again"? The work isn't easy – physically or mentally – but sure does beat working in the hospital back home! I have been bitten by the TDA bug. It's the culture, the outdoor lifestyle, the camping, the cycling… but more importantly it's the friends you make that turn into something that feels more like family by the end of the tour. I would love to be back here again next year!
Claire Pegler – 24 years old, from Brisbaine, Australia. Claire did the tour in 2009 as a rider, and came back this year as part of the medical team. A registered nurse, Claire's constant smile and hard working are her "registered mark" on tour.