Blog
REGISTER NOW
LOGIN
SIGN UP FOR OUR NEWSLETTER
Silk Route 2012
Announcing…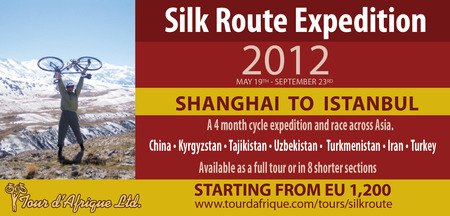 Only from the folks at Tour d'Afrique!
Sign up for our longest expedition: the 2012 Silk Route.
Twelve thousand one hundred and sixty kilometers. One hundred and twenty nine days. One hundred and four days on the bike. Twenty five days resting in some of Asia's most fabled cities.
Be part of an exciting new Silk Route!
Check out the revamped route, sections & prices. Then get ready to ride.