Blog
REGISTER NOW
LOGIN
SIGN UP FOR OUR NEWSLETTER
A funny thing happened on the way home…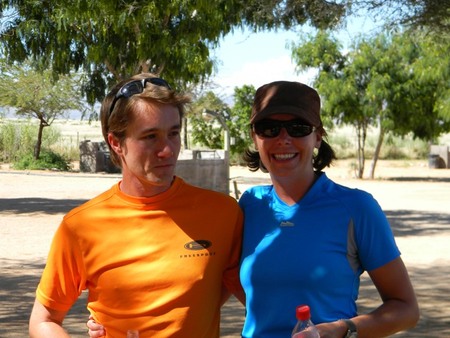 Jethro and I have been on a bit of an anniversary vacation. We left Cape Town a little over a week ago and headed north to Namibia. NAM was one of our favourite countries on Tda 2010. We've been cycling through our favourite spots, Orange River, Helmeringhausen, Sesriem, and finally Solitaire. We stopped in at the Solitaire camp site a few days ago it looked empty without the Tda trucks, bicycles, and riders. There is a sign at the Solitaire gas station with last years rain fall 133mm in 2010. I'm pretty sure that was all on the day we rode into town! We spent a few days in the Solitaire area hiking and cycling and sleeping in. Today we packed up and made one final stop for apple crumble. There it was…flagging tape…Brian…and Elvis…
Arriving back with the Tda is like warm apple crumble nostalgia. It feels both alien and completely normal. Looking around camp she looks like Dana, he looks like Sunil, oh that is definitely this years Adam. Things change and things remain the same, as someone rides in they asked me 'do you know about the hotel rooms?' later on I hear someone else ask 'which tyres should I use tomorrow' and 'what about the weather'.
It's been fun stepping back into tda life, if only for one night. Jethro is heading out tomorrow to ride with them. He asked if I could ride with him. I think he might be a little afraid of what a year of office work has done to his racing legs.
See you all in Cape Town!
— Kelsey Wiens