Blog
REGISTER NOW
LOGIN
SIGN UP FOR OUR NEWSLETTER
Rain, rain. go away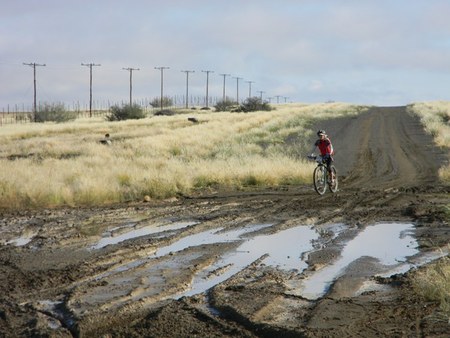 It's been an unusually challenging 48 hours in the normally dry desert lands of southern Namibia. After a crystal clear day of riding from Betta a front started rolling in at Konkiep Lapa camp. By dinner it had begun to rain. The night was full of thunder and lightning and a steady downpour meant many would've rather stayed hunkered down in their tents. While it didn't stop pouring until afternoon, the show had to go on. And so after breakfast the riders dealt with 30 km of gumbo like mud in the rain, some of whom were exhausted after 4 hours of grinding through this stretch. Fortunately the pavement then started at Bethanien and while a new found head wind was daunting more than half the riders completed this epic day into the rustic Seeheim Hotel.
After scouting the next day's route all seemed passable but when the lunch truck arrived at the normally strightforward Lowen river crossing it was greeted by a torrent due to the dam upstream having been opened. Luckily there was a railroad bridge a mere 300 meters away and the riders dragged their bicycles through the bush to the bridge while the vehicles doubled back 60 km to cross over at the Naute Dam. Now the 1st riders are arriving at the unique and bizarre Canon Roadhouse where a museum of ancient cars, amarula cheesecake and Windhoek draught are fine rewards for having completed "just another adventure"on the Tour d'Afrique.
This afternoon its off to the Fish River Canyon and then its time for early bed before tomorrow's last mando day of the race.