Blog
REGISTER NOW
LOGIN
SIGN UP FOR OUR NEWSLETTER
They made it!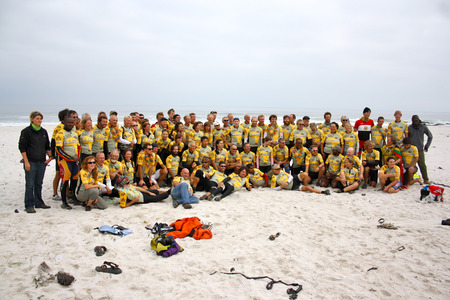 Congratulations to all riders and staff of Tour d'Afrique 2011!
12, 000km, 10 countries and 4 months later, Tour d'Afrique 2011 riders arrived in Cape Town on Saturday 14th May.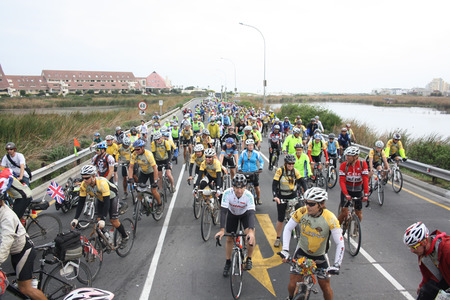 Using the new cycling path from Blouberg into the City TDA riders, were joined by around 300 local cyclists, as they made their way to the EcoPark to cross the finish line.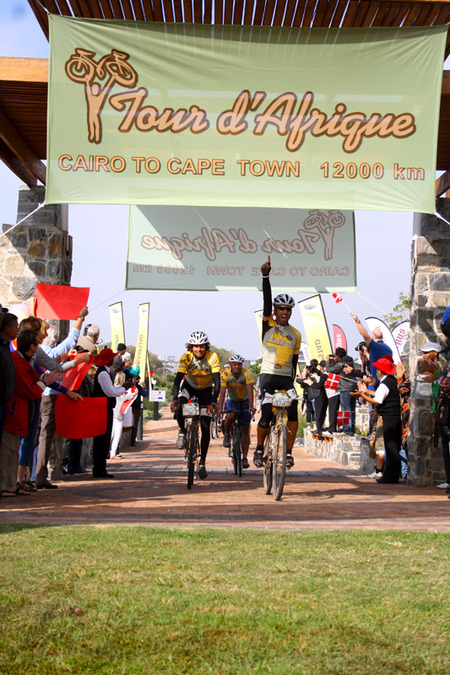 The riders were officially welcomed to Cape Town by the Minister of Transport, Robin Carlisle, the Executive Deputy Mayor, Alderman Ian Nielson and Counsellor Elizabeth Thompson, from the Department of Transport and Special Projects.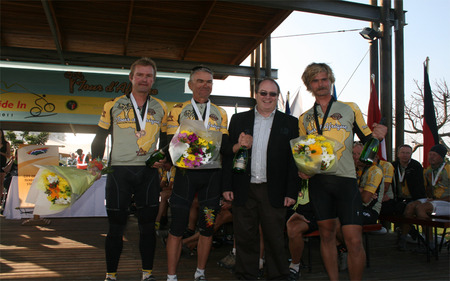 Men's Race winners were Paul Wolfe (Canada), Dennis Kipphardt (Germany) and Adam Stickler (UK) in first, second and third position respectively.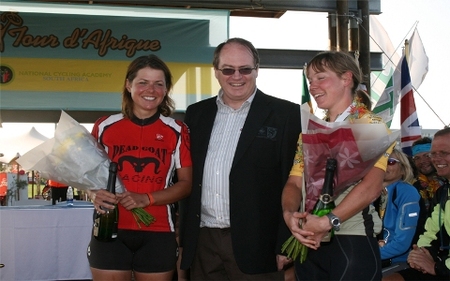 Women's Race winners were Tori Fahey (Canada) on the left and Carrie Buckmaster (New Zealand) on the rightt, with the Deputy Mayor, Ian Nielson.
It was a wonderful, festive day, rounded off by a fun Awards Dinner.
Henry Gold, who could not be at the finish line shared his thoughts:
"This is the ninth running of the Tour d'Afrique and this is the first time that I am not meeting the riders who have participated in the most remarkable bike ride in the world.
I am not in Cape Town because two months ago, when I was cycling with another of our company tours in India, an elephant came charging out of the forest and within seconds I found myself under the feet of one irate female elephant.
I was extremely lucky and I managed to escape with minor injuries speaking relatively, minor in a sense that I am recovering well and should be on a bike hopefully within weeks.
After an event such as this I've had time to ponder on what I have done with my life, have I been productive? have I taken advantage of opportunities? and the one thing that I am most proud of is creating the Tour d'Afrique and cycling from Cairo to Cape Town.
And here is the reason. We received this email in our office a few months ago.
"This Christmas my son visited me from South Africa. Whilst he was here he caught up with his friends who did the Tour d'Afrique with him 2 years ago. They spent a lot of time reflecting on the wonderful experience they had on their journeys and laughed for hours!!!! What you do is to bring so many people together and give them experiences and lasting friendships which they would otherwise not be opened up to."
I could add many other things about the tour, but to you who have just done it, it is redundant. So all I will say is congratulations and may the experience you have had over the last four months, be a source of strength and joy to you, as it has been for me."
Congratulations again to all riders and staff on TDA 2011!
On behalf of Tour d'Afrique, the Bicycling Empowerment Network and the National Cycling Academy of South Africa…
THANK YOU!
To all the local cyclists who joined The Big Ride In and to all family, friends and fans who came down to the EcoPark to welcome them at the finish line.
To all our sponsors who contributed toward the success of the occassion – Castle Lite, The Argus, Jacobs Coffee, Coca Cola, Nederburg and Squirt.
To all the exhibitors who participated in the EcoExpo and added value to the whole experience.
To all the volunteers… too many to mention… who worked so hard behind the scenes in so many ways to pull it all together. We could not have done it without you.
To all our suppliers… thank you for the deals and discounts you passed onto us.
To Michael Gildenhuys and his team at the Green Point Eco Park for all the assistance received.
To the media for all their support over the past four months – especially The Argus, the Cape Times, Die Burger, KFM and Cape Talk.
To Minister Robin Carlisle, from the Department of Transport, the Deputy Mayor, Alderman Ian Nielson and Counsellor Elizabeth Thompson from the Department of Transport and Major Projects for gracing us with their presence on the day.
To Elias Tukushe, Head of Non-Motorised Transport division and his team.
To the awesome ladies from the Marketing and Passenger Service Transport Department – Ester Moag, Lisle Nel and Magda Nell. We look forward to working again with you on an annual event that will see the whole of Cape Town out and about on bikes, skateboards and rollerblades.
We look forward to working with you all again in 2012.