Blog
REGISTER NOW
LOGIN
SIGN UP FOR OUR NEWSLETTER
Beyond Hope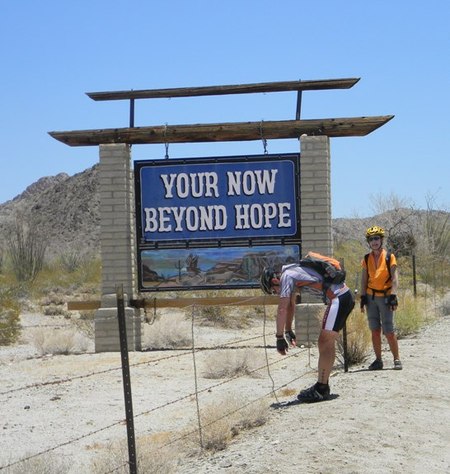 The North American Epic entered Arizona today, crossing the Colorado River at the town of Parker … where the average daily high in July is 109º F (43º C)! After yesterday's 151 km stage through mercurial heat, today's mere 125 km trek was cause for hope to spring eternal.
But after an easy morning breeze of a ride to the lunch stop, many riders' hopes faded in the teeth of a strong headwind along a 48 km dead straightaway between the convenience store in Bouse and the junction village of Hope. For them dreams became reality once again when the tour van appearing out of the desert proved not to be a mirage but rather delivery from fading hopes in the form of an ice cold water refresh stop and an air conditioned seat for those unable to continue.
Those who managed to cycle beyond Hope and those whose bikes and bodies were strapped onto and into the van found their hopes and efforts rewarded when they arrived at the small town of Salome. 7 miles beyond Hope, Salome is named after a Greek Godness and femme fatale. But whereas the town's motto is "she danced here," for some reason only known to Americans it's not pronounced Sa-lo-may but rather Sa-loam.
Semantics aside, Salome is proving to be way beyond Hope, in the form of the rustic and beautiful Westward Motel where we now are celebrating a sunny late afternoon with temps in the mid 90s amidst desert gardens and relics of the Old West.