Blog
REGISTER NOW
LOGIN
SIGN UP FOR OUR NEWSLETTER
Faye Belle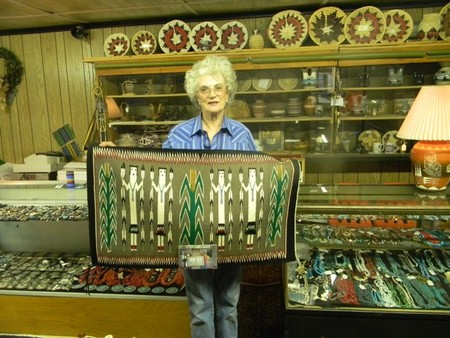 My wife and I have visited the southwest a few times and the stretch along southeastern Utah's Highway 191 holds special memories for us. So it was a great pleasure and privilege when our Tour Leader Paul McManus told me yesterday morning "you get to ride all day today" from Monument Valley to past Aneth through Mexican Hat, the Valley of the Gods and Bluff.
We've stayed in Bluff 3 times where we met Faye Belle a true Wild West character who runs an RV campsite, dairy bar, and an amazing Navajo jewelry pawn shop. Now aged 77 Faye has lived here all her life and is known for hundreds of miles around. Her mother was a midwife in this area delivering over 3500 babies, and every year we receive one of Faye's Christmas letters.
You can imagine what a delight it was to ride up to her door on my bike, give her a hug, and wander around her amazing selection of turquoise and many other semi precious stoned jewelry, some old some new, all of it stunningly beautiful. 30 minutes later I cycled on, armed with a few gifts for my wife and our household. Some of our other tour riders also met Faye and chuckled in camp yesterday evening about what a character she is.
Now we have traded in the red rocks of the desert for the pine and spruce forests, the swift flowing stream of the Dolores valley, and the cooler air as we start to climb up into the Rocky Mountains. It's been one day of sublime beauty after another with more to come for all those who took the great decision to ride the North American Epic.