Blog
REGISTER NOW
LOGIN
SIGN UP FOR OUR NEWSLETTER
The end of Classic Europe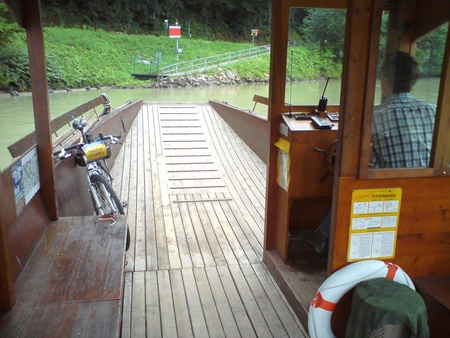 Leaving Regensburg we enjoyed one of the shortest days of the Tour. At just 52km it's only a few pedal strokes to reach Straubing. On a previous visit to this small city, Germanys' second largest beer festival was ongoing and in town massive tents filled with beer satiated Germans swayed to the raucous tunes inside. This year the town was more laid back and we enjoyed one of our hottest days of the whole trip, this inspired people to either relax around the camp or cycle into town to see what the locals were up to.
After this it was a string of 4 days all around 100km-115km. The majority of each day was spent on the Danube cycle way. As we approached and then entered Austria, our third country of the trip, the banks of the river grow steeper and steeper making the scenery that much more striking. As well the boat traffic picks up considerably with many passenger boats going up and down the river. In fact from Passau, Germany a few of our cyclists decided to take the boat to Linz, Austria. Apparently they had quite an interesting time and enjoyed the different perspective that gliding along the river provides.
Our campsite in Linz is right by a small lake and is usually great for swimming, however the weather was still a bit rainy so it didn't prove to be a popular option. One incident of note was that as I drove into Austria it was immediately apparent that no stores were open anywhere in the country; this was due to an undetermined holiday. I must say for all the grief Germans (and some Austrians) give the Greeks about not working hard enough and forgetting to pay taxes it seems that every other day in Germany/Austria is a holiday (which I must say is a great idea) Anyways I was told by a German hotel worker that when it isn't a holiday everyone works at 300% effort, most likely to make up for working 0%, 50% of the time.
We are now in Vienna. As one of the worlds' great cultural cities you can't walk for more than 500 metres without bumping into a museum. Today I can report having visiting the Natural History Museum. Let me tell you the giant Wooly Mammoth is kind of scary, once you get over that though you could easily spend a whole day there learning about parasites, caving, ostriches, ancient pottery or space toys from the 1960s' in no particular order.
After another rest day tomorrow we are off for the beautiful city of Bratislava, where we spend one night before cycling into Hungary the following day… It should be noted we have said goodbye to 4 of our sectional riders at this point. Noah and Laura in Ulm, Germany and just now in Vienna Alf and Evelyn of South Africa. Luckily for us we have 5 more sectional riders joining us here in Vienna and we're all excited to meet up with them and share the exciting times ahead.
So until then have a great time wherever you are and if you have the opportunity spend a day with friends/family cycling around aimlessly!
p.s. In the last blog I referred to Francois as Francoise. This was a mistake as Francoise is the feminine version of his name. Francois after a few difficult days has forgiven me.