Blog
REGISTER NOW
LOGIN
SIGN UP FOR OUR NEWSLETTER
Gettin' the Heck Outta Dodge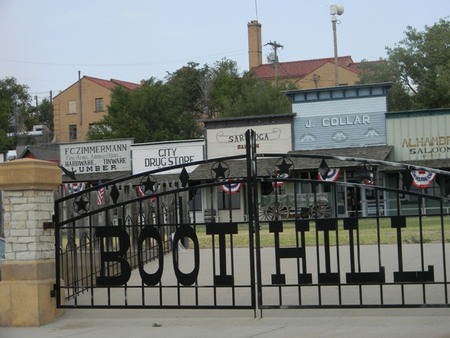 Entering Dodge City, the Kansas Historical Marker reads as follows:
"DODGE CITY – THE COWBOY CAPITAL.
For ten years, this was the largest cattle market in the world and for fifteen it was the wildest town on the American frontier. Established with the coming of the Santa Fe Railroad in 1872, Dodge City became the shipping center of the Southwest. The hunters who exterminated the buffalo here marketed several million dollars worth of hides and meat. Hundreds of wagon trains carried supplies to Western towns and army posts. By 1875 most cattle trails led to Dodge; in 1884 Texas drovers alone brought 106 herds numbering 300,000 head. As a rendezvous for hunters, trappers, cowboys, soldiers, railroad builders, bullwhackers, Indians, saloon keepers, dance hall girls, thugs and gamblers, the town became notorious for vice and violence. Some victims were buried on Boot Hill. Eventually law was enforced by such "two-gun marshals" as Bat Masterton, Wyatt Earp and Bill Tilghman."
Sadly today Dodge City is a remnant of its colorful past. Fires destroyed many of the old buildings not long after the town's heyday and most of the rest were torn down in the late 1940s in the name of "progress." While the railroad, the world's largest cattle processing plant and the grain silos all continue to serve the area's agricultural focus, the main drag – Wyatt Earp Boulevard – is now paved with fast food chain restaurants. In the center of town, the Boot Hill Museum aims to trap the tourists with a block long rendition of the old storefronts. Still the street signs and the statues of the local heroes are attractive reminders of a storied era not long ago.
"Getting' the Heck Outta Dodge" proved a little more challenging than expected. While the infamous Kansas winds have mostly been in our favor, this morn', after saddling up their 2 wheeled ponies, our riders trotted off into the teeth of a stiff headwind. But by lunch the gods of weather were feeling more conciliatory with most of our jockeys cantering into camp by 2 PM, well before a mid afternoon thunderstorm and this evening's 4th of July fireworks at Pratt Memorial Park.