Blog
REGISTER NOW
LOGIN
SIGN UP FOR OUR NEWSLETTER
Into Romania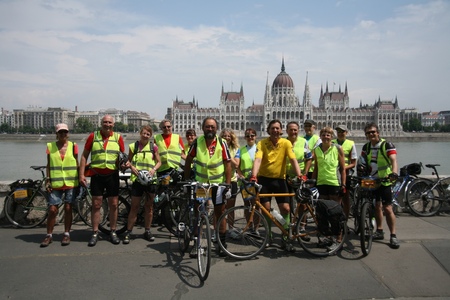 We left Budapest early last Sunday morning, with our two new sectional riders, Wolfgang and Rick, onboard. After 2 rest days in Vienna and 2 in Budapest I think everyone was gung-ho to start a 5-day stretch of cycling.
The first couple days out of Budapest are long and flat with many farm fields to cycle by and more than few bumps/potholes to watch out for on the roads. Our first stop was in Szolnok, which sits on the Tisza River and Zagyva Rivers. This area is what they call the "Great Hungarian Plain" As it was a long day most riders arrived in camp to relax but a few did venture back into town to check out a very peculiar cycle bridge which has been built over the Tisza river; rather than just a straight line across the river the bridge goes this way and that way, enjoying it's short but profound journey over the rapidly moving water below.
From there we continued to Gyula, Hungary, a town with a very relaxed feel and well known for it's thermal baths. The day of cycling went smoothly and luckily enough the group enjoyed some pretty nice tailwinds for a large chunk of the day. Entering Romania the next day was much anticipated and lived up to expectations. The locals are curious, outgoing and there is a decent espresso to be found in pretty much every village.
Our last 2 days of cycling into the rest day in Alba Iulia were extraordinary. The roads are starting to get hilly and the scenery is spectacular. Transylvania offers some great climbs and the day into Alba Iulia had one of 12km and another of about 8km. All cyclists reached the top successfully and enjoyed the long downhill and flat roads into town.
The next stretch takes us up and over the Transfagaras Pass, which is a highlight of the trip. A 30km climb into the Carpathian Mountains and then the long twisting descent towards the town of Curtea des Arges. Let's not forget Vlad the Impalers castle situation on the south side of the mountain pass as well!