Blog
REGISTER NOW
LOGIN
SIGN UP FOR OUR NEWSLETTER
Istanbul!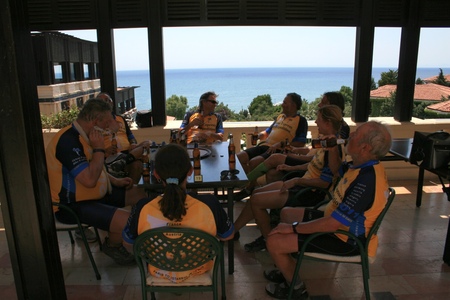 The Orient Express has arrived in Istanbul! After almost 4000 km and 50 days together our crossing of Europe from west to east is complete!
The last week of our adventure had some superb highlights such as the Black Sea coast of Bulgaria, a very unique "Hospital Hotel" in Malko Tarnovo, the first road signs pointing towards Istanbul, a festival ongoing in our rest-day town of Vize, Turkey where everyone enjoyed the local hospitality and were able to get used to the tranquil pace of small town Turkish life.
The last days of the tour were not without the similar challenges of hills and heat but these Orient Express cyclists are hardened athletes by this point in time and managed to complete each day with relative ease, and excitement at being so close to the finish line.
Our last day of riding took us to the edge of the Marmara Sea. There we relaxed, put our bikes aside and sat together to watch a slide show of images from the last 2 months. The next day, after a short transfer to Istanbul, we hit the town and enjoyed our farewell dinner together in the heart of the city where too many restaurants, bars, cafes and music venues await the curious soul.
Hats off to all our participants who made the Tour a success; with their ambitious goal of crossing a continent, their stamina to achieve it, their ability to adapt to the varying cultures/climates/conditions along the way, and most of all for their support of each other which of course in the end is what makes any journey a success. Congratulations and keep on cycling!
Final photos from the tour are now online here!