Blog
REGISTER NOW
LOGIN
SIGN UP FOR OUR NEWSLETTER
The Art of Lunch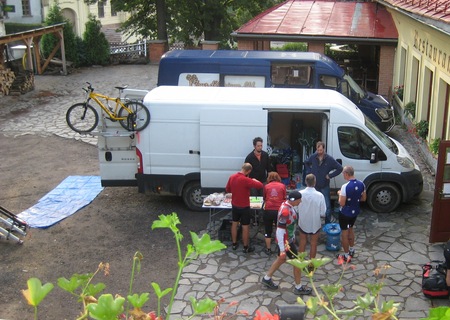 On tour, providing lunch to the riders is a daily occurrence. There's a difference between serving lunch… and serving LUNCH! You may not realize it, but there's a little more that goes into making lunch nice every day and I'll tell you a few of those things:
1) First and foremost, find a good spot. A couple things go into this step. Preferably, lunch should be more than half the daily mileage, but not much more. Psychologically this is a plus for riders knowing they are more than halfway done.
2) Also, the spot should be quiet and just off the road for easy access. Usually on the right hand side so riders can easily spot lunch approaching.

3) Essential to a good spot: some quality shade from the sun. To the untrained eye and lunch noob, a shady spot in the morning can actually be very sunny at noon, and vice versa. Shade saves you from having to put up a canopy tent that could very well snap or get blown away from heavy desert winds. It also keeps riders happy and food fresh.
4) That brings me to the food… I won't release the full lunch menu but typically the food we serve is easy to eat with your hands (aka: sandwich form) so dishes are unnecessary. The trick is finding food that's nutritious but light. Don't serve anything like fried chicken that could cause "the Itis" (the Itis is that feeling you get after you eat thanksgiving dinner/ tacos/ fast food, where all you want to do is sleep and it's so bad it's almost a medical condition). Serve plenty of fresh fruits, water, Gatorade and energy drinks to keep people going.
5) Finally, clean up. Since San Francisco, we've made temporary lunch camps in all types of locations. We've set up lunch at abandoned barns, next to beaches, canyons, and public parks to name a few. It's good to change it up (the food and the locations) to keep the group on their toes.