Blog
REGISTER NOW
LOGIN
SIGN UP FOR OUR NEWSLETTER
Nick's Tuna Tuesday Delight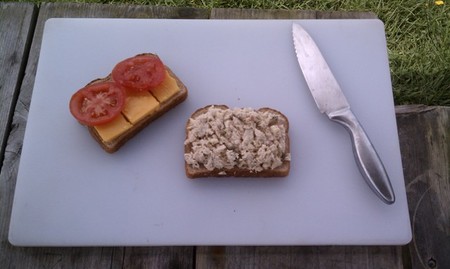 Tuna salad is an easy and healthy food option when travelling on the road. With a few simple ingredients, tuna can go from boring to super tasty, Tuna Tuesday Delight a-la Nick.
The story behind my recipe's name originates from other weekly specials that occur in no particularly regular sequence. For example: Hot dog Wednesday and Freaky Friday (which is sometimes grilled cheese sandwiches, sometimes BLT's).
This recipe is best enjoyed on a sunny Tuesday afternoon in Nova Scotia:
• Canned albacore, solid white tuna in water
• Mayo
• Capers
• Fine chopped artichoke hearts
• Fine chopped roasted red peppers
• 1 apple, fine chopped
• Fresh dill weed
• Crushed black pepper
• Lemon juice
Serve with sharp cheddar cheese and a couple of slices of fresh tomato on whole wheat bread.
Enjoy!