Blog
REGISTER NOW
LOGIN
SIGN UP FOR OUR NEWSLETTER
A Man on a Mission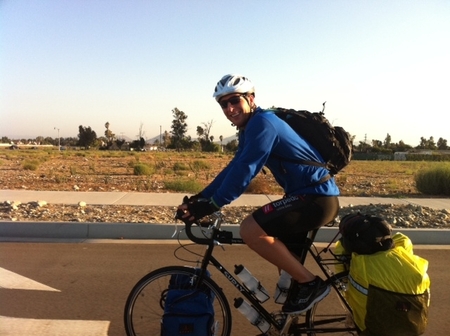 Aussie Cyclist Cycles Across the USA to Raise Awareness about Youth Homelessness
"Man, I wish I had a support Vehicle" Alex lamented with a thick Aussie accent. "The bike is so heavy mate. Yesterday I got 6 flats in the space of about 10 minutes and used up all my spare patches. I was stuck"
I could empathize with him. Even with all our planning and logistical support on our North American bike tour it was much harder than we expected as well. It's a lot more challenging to cross the US by bike than you would think.
It was my third or fourth conversation with Alex since he first contacted the Tour d'Afrique about support for his charitable bike ride across the USA. His lead sponsor in the USA had pulled out at the last minute leaving him scrambling to organize the event from halfway across the globe.
Alex contacted us just after we had completed our inaugural 8000 km bike tour across the continent, the North American Epic asking if we could share the details of our route across the USA with him. We were happy to help.
After a lot of hard work on his part and a little bit of help from us Alex left Los Angeles on September 18 on a ride to raise awareness and funds to support Homeless Youth in both Australia and the USA. He has ridden across two deserts and climbed over the rocky mountains in a hail storm. Along the way he's lived much like one of the homeless youth he is trying to support. Sleeping in shelters and couch surfing, occasionally even sleeping in the street.
The project, called Street Dreams, is the world's first International Corporation only sponsored competition, which focuses specifically on contributions from small, medium and large-scale corporations. The key concept of Street Dreams Project is to see which country, represented by its corporations, can raise the most funds through corporate sponsorship. Street Dreams Project intends to bring serious attention to the level of youth homelessness in both Australia and the U.S.A, while fueling the patriotism within each respective country. By creating a friendly competition between corporations, which offers the successful nation "bragging rights" over the other, Street Dreams Project will ultimately fund programs that will reduce the number of homeless youth in Australia and the U.S.A.
When I spoke to Alex last he had just crossed the Rockies and was making up time in Kansas and Missouri. He'll be following the route of the North American Epic up until St. Louis, MO. From there he will follow the route of the Race Across America (RAAM) to Washington DC, then make his way up to New York.
Alex is nothing if not determined and motivated by his cause. He's had a tough road but it has strengthened his resolve and he says he has learned many lessons on the tour:
"There have been times during this trip where I have felt horrible, times I have felt amazing and times where I have just switched off and gone in to auto pilot. The lessons I have learnt to date have been priceless, to add to this positivity I have met some amazing people along the way, people that have inspired me to get back on the saddle everyday and challenge myself to be the best I can be.
I have cycled through hail storms, snow storms and extremely hot and humid days, during which the same lesson has always applied, a lesson that relates to life itself, and that is – no matter how difficult each task is and no matter how hard things may feel, if you continue to work hard in order to keep moving forward, sooner or later you will arrive at your destination."
I think that's well said. It's a lesson I hope Alex's journey will drive home both for the youth he is riding to support and for those who are supporting him.
Keep Calm, Ride On….
Paul
Alex Petrou is a 27 year old youth worker, university student and co-founder of community organization Seed of Thought. He is an aspiring young leader and change agent, with a key focus on inspiring our younger generations to be more socially responsible, and to proactively change their lives in a positive way.
You can follow Alex's journey to support homeless youth on twitter: @alexanderpetrou or on Facebook or on his blog.
For more information on the Street Dreams Project and to make a donation via their sponsor a mile program you can visit their website.