Blog
REGISTER NOW
LOGIN
SIGN UP FOR OUR NEWSLETTER
Sudan, January 30th, 2003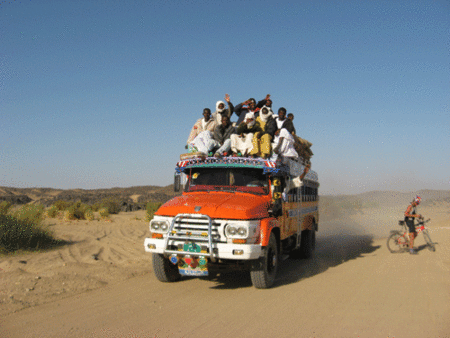 If I can retire to a foreign land, can it please be Sudan? After a five hour ride on a barge crossing Lake Nasser from Abu Simbel, we eventually made it to the last remaining outpost of Egypt, passed through and were shortly in Wadi Halfa.
There were about 20 people standing and waving as the barge came to a rest at the dock. They carried a banner reading 'Welcome Tour d'Afrique". I thought this is what it might have felt like for any explorer coming home after a long journey, with warm adoring friends happy for your safe return. After a bit of confusion, we were through customs. I must have handed my passport and photos to everyone in the building.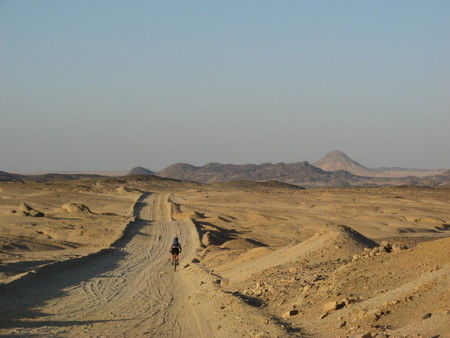 The roads in the desert are a meandering series of routes that seem to have been developed with a smooth ride in mind but the wear and tear still leaves one feeling a bit roughed up. There were times when fellow riders and I would be hundreds of metres apart on different lines only to find each other back on the primary route a kilometre down the road.
I am exposed every day to a culture and people more sincere, genuine and hospitable than any I have encountered (although the people of Newfoundland are not far behind). Tonight we are treated to some festivities organized in our honour; camel, horse and bike races, all of which lacked any definitive winner.
— Sudan, January 30th, 2003
Stephen Topham TDA' 03
To celebrate the 10th anniversary of Tour d'Afrique's epic bicycle expedition from Cairo to Capetown, we are looking back at some rider memories over the past 10 years.
If you have any others that you would like to share, please send them to us and we will do our best to put them up on the website.