Blog
REGISTER NOW
LOGIN
SIGN UP FOR OUR NEWSLETTER
A look back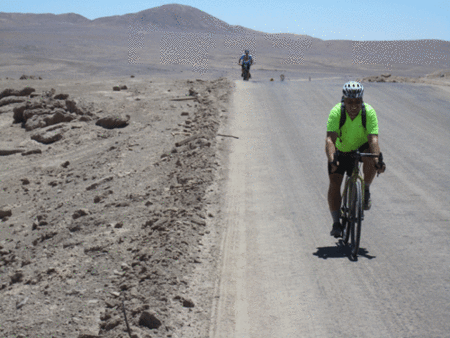 In a way Antofagasta was the perfect city for a rest day at this point in the tour. We stayed in a run down yet spacious motel, perched on the edge of a surf swept beach. It was quiet, had a pool (with water!) and was a short bus ride from town. The city itself didn't have anything of specific interest, but offered many western comforts; nice seafood restaurants, a scenic and developed waterfront, and a massive shopping center: a final bastion of western comforts before we head off to the hills.
Nov 2:
The morning starts off cool, with a low veil of sea fog sitting over our heads. By 9AM the fog has burned off and the day promises to be hot. A short steep climb takes us alongside a scar of earth; massive machines work away on widening the road. Slowly the signs of civilization diminish.
Shortly after lunch we pass through the hamlet of Baquedano; a strip of kiosks and small restaurants surrounded by rectangular homes topped with corrugated steel. A relatively attractive middle aged woman trolls the streets in a school girl outfit, presumably she does a brisk business out in these parts.
Camp this evening is squished against the road by a steep rocky hill. Trucks honk as they roll past, regardless of the hour. Despite a waxing moon diluting the darkness, the scintillations of a star filled sky seem impossibly intense.
Nov 3:
One road all day, no villages, no coke stops, no plants. Just rock and road. It's a long day of climbing followed by a steep descent- which thrills some and terrifies others. Camp this evening sits in a (presumably innactive) gravel pit. It proves to be a good location, as the high walls of the pit provide an element of protection against the wind that tears through camp until well after midnight.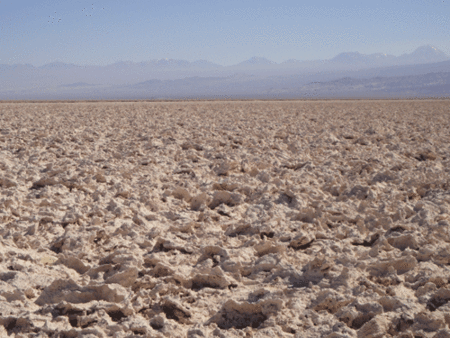 Nov 4:
Shortly out of camp we enter an otherworldly landscape; hard, salt crusted earth juts up upon itself, like a plain of chunky meringue tops. It's hard to travel far without being tempted to stop and snap a few photos. Gradually a few hardy grasses appear sprouting out of the salty earth, and shortly after that the ground is covered by a short, stiff, brown mat of grass. Goats, sheep and llamas are our first signs of civilization. We roll along under the watchfull gaze of Licancabur volcano, as it smoulders away.
After three long days of riding we see our first green plants and trees. The oasis town of San Pedro de Atacama comes into view, promising two rest days of cold beer and hot nightlife. It's been a tough stretch, despite the short length so It's good to know that we can kick up the heels for an extra day. We're now two riding days from Bolivia, and the rumour mill in camp is working overtime.