Blog
REGISTER NOW
LOGIN
SIGN UP FOR OUR NEWSLETTER
Henry Speaks
Essential Travel Talks To Henry Gold, Tour d'Afrique Founder And International Cycle Tour Guru
Our November magazine counts down Top 10 Cycle Tours. We thought it was fitting to interview cyclist extraordinaire, world traveller, philanthropist and founder of cycle tour company Tour d'Afrique, Henry Gold. Take some time to read about Gold's cycle expeditions across Africa, his cycle endurance advice and his hope for a more peaceful world.
Essential Travel: Tour d'Afrique was named after the first expedition from Cairo to Cape Town (4 months and 7500 miles) – nearly ten years later and your company now offers tours all over the world. What is your most vivid memory from that first cycle expedition?
Henry Gold: There are so many it's hard to choose. I would say starting the tour at the Pyramids in front of the Sphinx. It was kind of unexpected because I did not believe that we would be able to obtain a permit to stage the start there and convince the Egyptian Authorities to close the grounds for us. As I was looking at the scene in front of me, with the cyclists walking, taking pictures of each other and using the background to obtain memorable mementos, I was thinking "What would the Sphinx, who has seen all kinds of things through history, what wise words would he say to us embarking on this unknown adventure?".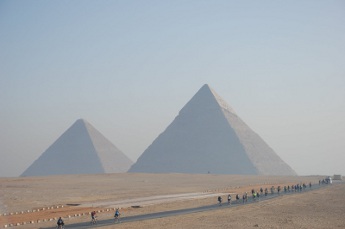 Essential Travel: Have you used the same bicycle since you began?
Henry Gold: Yes I have, though seven months ago the bicycle was a bit shattered in Southern India, when I was attacked by a wild elephant. Actually I am very lucky to be alive. (This is a much better story than the recent YouTube phenomena of the South African rider being knocked down by an antelope, though I think I know how he felt. But there was no one behind me to film it).
Essential Travel: How would you persuade someone who has not had as much experience to partake in a tour of this nature?
Henry Gold: I actually tend not to try to convince anyone simply because I think that people have to want to do this, have to be prepared in their own minds that they are ready to do this. I do not want us to be blamed when things get rough and they need to hold someone responsible for their predicaments. Having said that, when I hear someone saying "I cannot do this, I am not in shape" I do explain that anyone who is healthy can do it. It is more a mental thing than a physical. If you are not racing but simply trying to cycle 100km or 150km per day at a slow speed, within 2-3 three weeks you will be in shape and enjoying it. And I say this because I have watched people of all ages and backgrounds who were not even cyclists who came on our different tours and did it, and they had the time of their lives.
Essential Travel: Tell us a bit about the Tour d'Afrique foundation?
Henry Gold: When we first started to plan Tour d'Afrique we gave ourselves several objectives. Primarily we wanted to create an ultra-challenge, something unique and daring, something no one has ever considered doing as a race – in essence the Mount Everest of biking. We also wanted to create a race with a different style, perhaps going back in cycling history where the participants would not be treated like prima donnas but would be largely self-sufficient. But we also wanted it to be a challenge open to non-racers and people of all ages. After all we figured that just cycling Africa every inch from top to bottom was enough of a challenge. Our secondary objective was advocacy. We believe that bicycles are a valid alternative to the ever expanding use of automobiles and the damage that the automobile brings with it, whether it is pollution, health problems, urban sprawl, social obstacles, land consumption, resource use and so on. And we thought that if we could cross a continent in 100 days, it would show people that they can bike to work for half an hour each day and we would all be better off for it.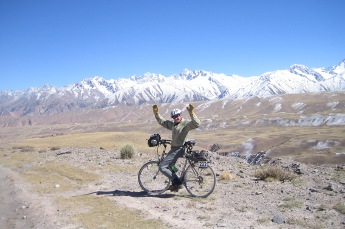 Another objective was to change negative perception of Africa in the developed world and thus improve its economic potential. We wanted to open Africa to cyclists and change foreigners' perspective on Africa. We wanted something good to come out of the event no matter how small. And we also wanted to remind each and every one of us that it is important to give something back to the place we enjoy. Thus the idea of the foundation that gives away bikes to health care professionals and promotes the use of bicycles for the world overrun with cars came into being. Thus the encouragement for others who partake to raise funds for causes in Africa and elsewhere.
Essential Travel: An integral part of Tour d'Afrique's vision has been to promote the bicycle as an alternative means of transport. If you examine the Barclay's cycle campaign in London and other initiatives around the world, do you see this having a lasting impact? And do you think enough is being done to promote such a form of transport?
Henry Gold: No, I do not think enough is being done. I believe that the world has yet to wrestle with the damage being caused by overuse of private automobiles as the main approach of getting people from point A to point B especially for distances less than 10 miles. The culture we have created is one of vast wastage of resources and though we may all be wired this way, I think we need to deal with this sooner rather than later.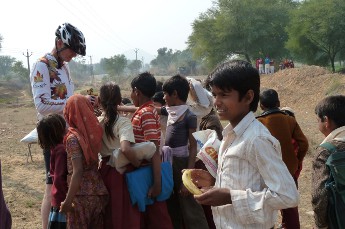 Essential Travel: Having travelled and worked on the continent of Africa as well as explored the world on a bicycle, what is your favourite destination and why?
Henry Gold: I am the type of person who is very much involved with where I am and what I am doing and I have had many pleasurable moments in places where many would consider as inhospitable and unattractive and I also have had some rough times in some of the most beautiful places around the world. To a certain extent I am a believer of what the great English explorer Sir Wilfred Thesiger once said, "the harder the life, the better the man".
Essential Travel: What is your number one possession you take with you on every cycle tour?
Henry Gold: I am not one for possessions. I travel very light. However because of running the company, I do use a small computer which I now carry on every trip. But my motto is not to accumulate things but rather accumulate experiences.
Essential Travel: Music always inspires people when they travel. What are your top five cycle tunes?
Henry Gold: When I cycle I do not listen to music. Many do, but I find I am able to be more in the moment when I do not have music in my ears. I am able to hear the sounds of the surrounds which are usually wonderful. It is also much safer. Once in camp while food is being prepared, there are a lots of favored songs from Bob Dylan's 'Rainy Day Women', 'Acoustic Motorbike' by Luka Bloom, 'Highway Star' by Deep Purple, 'Joker and the Thief' by Wolfmother, 'December' by Collective Soul, 'Impi' by Johnny Clegg & Juluka, 'Same old Scene' by Roxy Music. Very popular for wake up calls in the morning on tour is 'I want to ride my bicycle' by Queen.


Essential Travel: We are particularly interested in the Amber Route tour that you offer. Tell us about this particular tour's highlights?
Henry Gold: To me the highlights are the old city of Bratislava, the center of Slovak culture, seeing the remnants of the original Roman route that lead from the Baltic coast to the Adriatic in western Hungary, the cycling in the foothills of the Alps in Slovenia and of course ending in Venice. When I did the trip two years ago, it was my first visit to Venice and it was such wonderful way to finish.
Essential Travel: What goes into preparing yourself for a cycle tour – both physically and emotionally?
Henry Gold: Physically it is easy. Just cycle at your own pace as much as you can. If you can do 80-90km per day for two consecutive days with plenty of stops you will be fine. Emotionally, it is also relatively easy. If you like being outside, if you like being stimulated, if you like seeing new things and discovering new things then the emotional part is also easy. The only times things tend to be difficult are when you expectations are not in line with what is happening around you. This could be anything from hitting a stretch of bad weather, to having the wrong reasons for being on a trip. I always say, if you like the outdoors, if you like being on a bicycle, if you like good food and new places, you can't go wrong on these trips.


Essential Travel: What are the biggest dangers and challenges of a cycle tour?
Henry Gold: The biggest dangers are unequivocally the automobile drivers. This danger is the same all over the world. The biggest challenge is your own mental state.
Essential Travel: Please explain to our readers what crowd sourcing means to you?
Henry Gold: Crowd sourcing to me is simply going to the people who like what we do and ask them about their ideas and how to implement them. In our case, what kind of bicycle trips would they like to do and how.
Essential Travel: DreamTours Beta is an incredible crowdsourcing initiative. How have people responded to the idea of creating a cycle tour of their dreams?
Henry Gold: The response has been interesting. People came up with a lot of great cycling tours which they would like to do. The main problem has been getting the critical mass of participants to make it worth while to run the tours. This has been a challenge and will continue to be so.
Essential Travel: You have a background in engineering and philanthropy. We also hear you have produced some award winning documentaries. What gives you inspiration every day?
Henry Gold: I am not sure. Probably the fact that my parents are Holocaust survivors and they lost all their families. It makes me look at life, I would say, with different prisms. Life is precious, the world is a beautiful place filled with wonder and problems. We all should strive to partake in the beauty, the joy and at the same time keep an eye on the challenges and try to do a bit about helping to solve the problems.