Blog
REGISTER NOW
LOGIN
SIGN UP FOR OUR NEWSLETTER
Wheels of Africa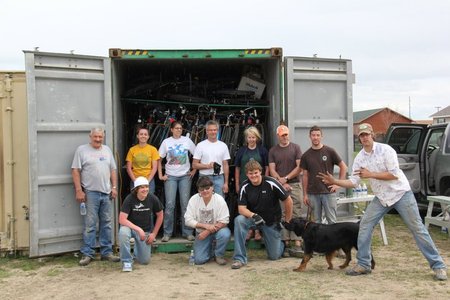 Congratulations to Dan Austin of Austin Lehman Adventures (ALA) for being chosen to receive the 2011 Global Vision Award from Travel and Leisure magazine for their work on Wheels of Change, an charity started by ALA to help ship used bikes to Africa. Magnanimous as ever here's what Dan had to say when he won the Award at the Adventure Travel World Summit in Chiapas Mexico on October 19th:
"This award is for everyone involved in Wheels of Change both in Montana and abroad where the tires ultimately hit the ground in Africa. We are honored and appreciative of the recognition but our work has just begun," notes Dan Austin, director of Austin-Lehman Adventures and founder of Wheels of Change
How I know Dan:
I first met Dan as a result of our project to open a bike shop in Nairobi with our friends at Wheels of Africa.

A bit of history:
WoA's dream was to open a bike shop in the Kibera slums to serve the local community. Prisca Oluch, director at WoA, and I worked together for months putting together a workable business plan and soliciting support from whomever we could get to listen.
The Tour d'Afrique Foundation had committed $3000 to the project to help with the start up costs of the shop and 2010 Tour d'Afrique Rider Gerald Coniel generously contributed another $2000 from his own pocket.
This money would cover the start up costs of the shop and the cost of transporting bikes from the port n Mombasa to Nairobi. But we still needed bikes and shipping a container of bikes to Mombasa from the US would cost another $8000.
Getting that cost covered was critical to the shops success. We contacted various organizations including Mike Linke at BEN Namibia who had some great advice for us and ultimately introduced us to Dan at Wheels of Change.
How Dan Saved our Project:
Dan came to our rescue in a big way. He quickly agreed to help and within a few months he and his team had collected 320 bikes and packed them into a container for shipping. Wheels of Change covered all the costs of packing and shipping the bikes to the port in Mombasa.

A Nairobi Bike Shop to Open Soon:
As we speak the bikes are on the open ocean and due to arrive on November 29th. Upon arrival WoA will bring them to Nairobi where they are working to build a bike shop and storage facility for the bikes. 100 bikes have already been pre-sold and demand for the others is high. We are all very excited to see the shop open when the 2012 Tour d'Afrique reaches Nairobi. The success of the Tour d'Afrique Foundations efforts to encourage and improve access to sustainable forms of transportation in Africa hinges on working with professional, reliable and generous partners like Wheels of Change. Congratulations again Dan, you deserve it. I look forward to working with you again in the future.

Paul paul@tourdafrique.com
Related Links:
Wheels of Change collects donated bicycles in the United States to be shipped overseas to Africa. They work closely and are a big supporter of BEN Namibia.

BEN Namibia
BEN Namibia aims to empower disadvantaged Namibians through provision of sustainable transport and bicycle-related income generation opportunities.
For 10 year the TdAF has been donating bikes to Health Workers in Africa so they can reach more patients and deliver care more effectively. In 2010 TdAf began supporting Wheels of Africa's dream of opening a community bike shop in Nairobi.
Wheels of Africa was formed in October 2008 as an organization to champion the culture of cycling in Africa. To date we have about 30 paid-up members from all walks of life ranging from casual riders, commuter cyclists, bicycle mechanics, competitive bike riders, para-cyclists and both young and older learners, learning to cycle. Wheels of Africa's vision is to mainstream cycling as a lifestyle and an alternative mode of transport in Africa…