Blog
REGISTER NOW
LOGIN
SIGN UP FOR OUR NEWSLETTER
The 2011 Vuelta is over!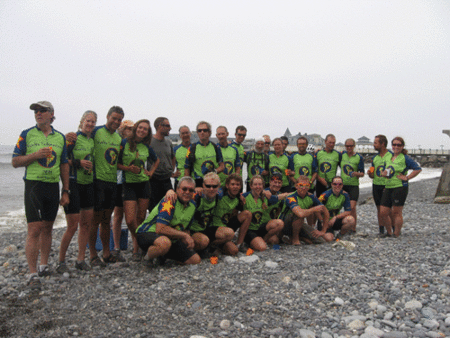 ¨But why had we come, if not to depend on our own resources and in so doing, discover more about them? There are circuits and juices in every person that are the heritage of millions of years of evolution and survival in wild country. They need exercising- add a twinge of fear and wonder, and they can bring the world into focus with astonishing clarity.¨ – James Baldwin

Our final leg along the coast of Peru was a surprising stretch of uninterrupted desert; forgotten surf towns, and developing tourist stops. With each passing day the reality of arriving in Lima and completing the tour became more tangible, more imminent. But despite several days of anticipation of the final day, the final breakfast, the final dinner, the final convoy and the final night together all seemed to catch us by surprise. We´ve arrived in Lima, and we´ve known all along that this time was coming, but there really isn´t anything one can do to prepare.
From the Rio Plata to the Rimac, we´ve traveled through a myriad of landscapes. We found our legs on the Pampas, and tested them in the Sierra Chicas. We climbed among the snowy peaks of the Andes and snaked our way into sunny Santiago. We followed a dynamic coast of heaving waves and jagged boulders to the empty canvas of the Atacama. But this was all just a warm-up for the heights of the alti-plano and the otherworldly sights of the salt flats, Lake Titicaca and Macchu Piccu. A devastating week of big ups and downs was a prelude to the most epic descent of the tour into Nazca, then a final stretch of desert and sea led us to Lima. Along the way we´ve battled sun and wind, cold and snow, hills, gravel and sand. Yet everyday held its own reward, surprise, joy or thrill.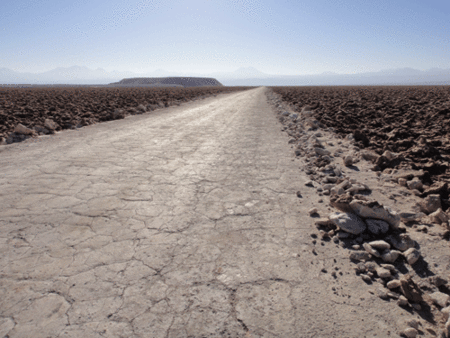 It has been a trip of superlatives and important world destinations. The list of landmarks and highlights is a lengthy one; from the worlds largest salt flats to the highest navigable lake in the world, and from the solitude of the world´s driest desert to the bustle of every major city along the way. We´ve stared in wonder at the mysteries of Macchu Piccu and pondered the Nazca lines. We even dared to cycle the world´s most dangerous road. But if we wanted a list of highlights we would have taken the bus, because nowhere is a place, and as the people of the continent continue their migration to the urban centres, the desolate farming communities and forlorn fishing towns gain even more importance. Words cannot describe the feeling of arriving at a place, surrounded by rumbling volcanoes, scoured by wind, marked with the remains of an abandoned mining community and wondering- ¨how else has been here?¨ or the joy of camping next to a restless sea with not another soul in sight.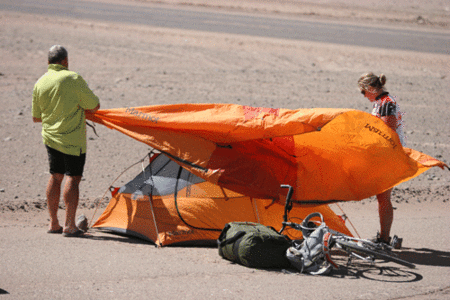 It is a strange mixture of emotions that one experiences after completing such a tour. It feels slightly disorienting. This lifestyle has become so familiar and, in a way, comfortable. Eat, ride, sleep, repeat; the scenery changes by the day, but the regiment stays the same. But now we´ve been set free, to continue traveling or return home to family and friends. No set time for breakfast, no daily rider meeting, no set destination for tomorrow. Jason summed it up nicely when he said that ¨it feels kinda weird to be at loose ends.¨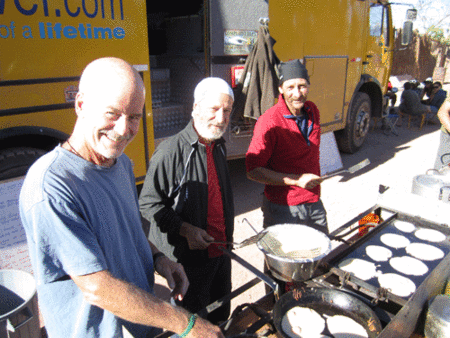 Many elements combine to make a tour truly wonderful. The scenery, the weather, the food, among many other factors all contribute to the joy of the journey. But the single most important factor on any trip is the people. Indeed the locals have treated us with warmth and hospitality in each and every country. But the locals come and go, while daily we are faced with each other. The group of 20 some odd cyclists that departed Buenos Aires nearly three months ago has morphed into a nomadic family. We´ve stormed and we´ve performed, and together we´ve enjoyed the good days, and worked through the hard. It is hard to imagine that each of us will now return to our respective homes; every one of us a part of a collective experience that we will hold forever. As Dennis put it this morning ¨the end is as surreal as the beginning.¨