Blog
REGISTER NOW
LOGIN
SIGN UP FOR OUR NEWSLETTER
5 Phone Apps That Really Work When You Are Travelling
Travel can be intimidating. You don't speak the language, you don't know local customs and you have no idea how much things should cost. Figuring that stuff out is certainly part of the fun but wouldn't it be nice if it was just a little easier?
On a recent trip to China I tested several phone apps that work offline to see how helpful they would be. I was in China for 3 weeks scouting a new route for our Silk Route Bike Tour. I travelled from Shanghai to Lanzhou by car and though urban and rural areas alike.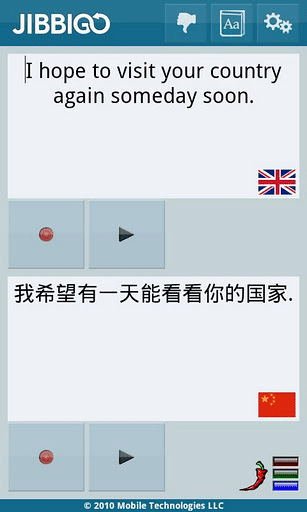 Jibbiggo : Free app, $4.99 for each language pack in the Android Market, also availible for iPhone
Jibbigo is a lot like Google Translate except that it works offline. The app itself is free but you have to pay for each language pack you download. The app uses about 14 MB of space on your phone. The Mandarin language pack I bought used 1.6 MB. This is the one downside to offline apps, you need to have adequate storage space on your phone.
Best Use:
Your not going to use this app to have any in depth conversations but if you need to ask for a toilet in a hurry or order at a local restaurant it will do the trick. Over time you'll even begin to pick up words so you can rely on the app less and less. It even has a history function so you don't have to type in phrases you've used before.
One word of caution is to choose the words you want translated carefully. For example when I was looking for a bathroom I typed 'washroom' in to the app which translated to 'shower room' in Mandarin. When I entered the word 'toilet' however I got the right translation.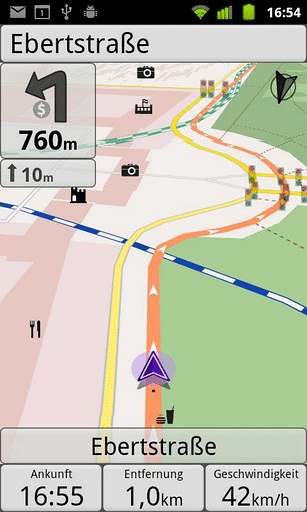 NavDroyd $6.93 in the Android Market
NavDroyd uses Open Street Maps (OSM) to help you get around a city or country. Like Jibbigo you first install the app and then download the maps for the countries you are interested in. It used about 9 MB for the app itself and 56 MB for my maps of China.
Best Use:
The most useful feature for me was the ability to attach a 'pin' to my location. This allowed me to pin my hotel on the map then wander aimlessly through cites like Shanghai, Nanjing, Xian etc… without having to worry about how long it would take me to find my way home. I'd also use it to 'pin' items I wanted to return to later like a restaurant that looked good or market stall where I wanted to pick something up on the way back to the hotel. The level of detail was good enough that helped us to find a route around Lake Tai, something our paper Chinese maps could not do.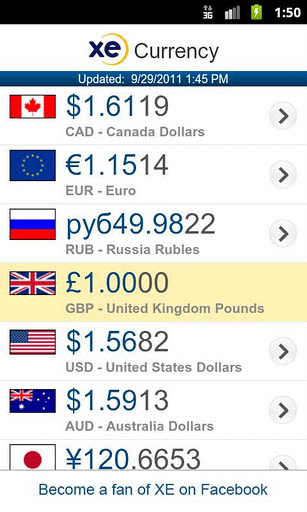 XE Currency Exchange Free in the Andoid Market
Perhaps not useful for everyone but on our tours we cross a lot of borders at some pretty obsure border crossings. This often means dealing with some black market currency traders and it pays to know the official exchange rate. XE Currency allows you to update the rates when you have a wifi connection and then stores them offline for you.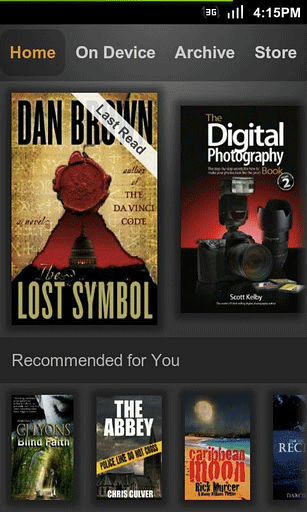 Kindle Free in the Android Market
There are countless travel apps on the market and I've found many of them useful. But rather that clutter my phone with dozens of individual travel apps I've begun simple using the Kindle App. When Combined with a web service like Readability it really becomes a powerful travel tool.
Best Use:
An easy use of the app is to download any guidebooks on the places you will be visiting and store them on your phone. Read them on the plane and use the Kindles notes and highlights feature to save the relevant bit for later reference. There are not a lot of guidebooks for kindle yet but there are a few.
With the web service Readability you can send almost any webpage to your kindle. You'll need the paid version of Readability ($5 a month) but it well worth it. You can then search the web for all the relavent bits of information you'd like to have on your trip and with a few clicks of the mouse send them to your phone to be referenced later. Brilliant.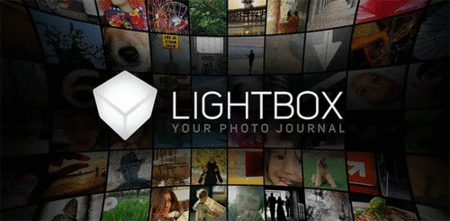 Light Box Free in the Android Market
Light box is currently my favorite photo app. It works as well as the stock camera app and it has several filters that allow you to alter your photo immediately after taking it.
Best Use:
My favorite feature is the ability to caption and geolocate each picture immediately after taking it. After a photo is taken a text box appears, type a quick description and save the photo. Later, when you have a wifi connection you can upload the photo to Twitter or Facebook using the previously typed caption as the text for the post. My only gripe is that when I download the photos to my laptop the text does not become the file name, that would be a nice feature.
So there are five of my favorites, test and approved! I realize they are all for Android phones but that's what I use and I hate to recommend something I haven't tried myself. What are your favorites? I'd love to hear about them in the comments.
Paul McManus designs and guides long distance bike tours for Tour d'Afrique Ltd. His next trip will be the Silk Tour Bike Tour from Shanghai to Istanbul starting in May 2012. Find out more at www.tourdafrique.com.