Blog
REGISTER NOW
LOGIN
SIGN UP FOR OUR NEWSLETTER
Two days in Shanghai, on and off the beaten track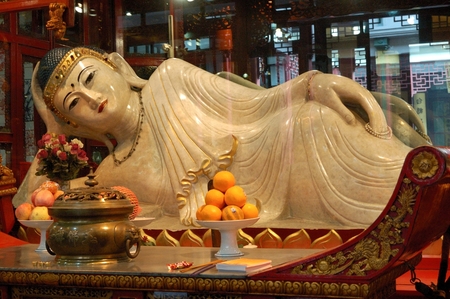 Spending a year in Shanghai is by no means enough to extensively explore this wonderful city, its neighborhoods, it's idiosyncrasies.
The first and most natural place to start for first-time visitors is People's Square (Ren Min Guang Chang), a beautiful square downtown Shanghai surrounded by green and some of the city's nicest architecture. In its very heart, a mandatory stop is Shanghai Museum (Shang Hai Bo Wu Guan), a splendid display of Chinese past and present, lifestyle and art, calligraphy and handicraft, in a nutshell, a full immersion in the country's intimate soul. Despite being in the city center, Shanghai Museum doesn't draw the attention it should, and often its visitors are more Chinese than tourists.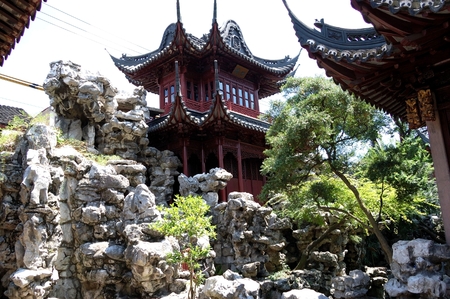 The natural continuation from People's Square is the Old City and the Yu Garden (Yu Yuan). This can be a bit of a tourist trap, but it's by all means a must-see for first-timers as, especially in the Yu Garden, typical Chinese architecture and gardening style are beautifully displayed. Inside the Old City there are many shops offering anything from souvenirs to traditional clothes to fancy chopsticks, but tourists should be aware that the first price is "for foreigners", meaning that if you can pay a tea set 100-150 Yuan at a normal shop, there it can cost 800 Yuan. This being said, you can (and are expected to) bargain the price. It's very easy to get to the Old City by taking subway line 10 and getting off at the Yu Yuan stop. Take exit 1 and after a short walk you will see the crowd.
Who is keen on museums can also take a look at the places symbol of the Communist Revolution by visiting the Site of the First National Congress of the Communist Party of China situated at no. 76 Xingye Road, next to the trendy pedestrian area Xintiandi. Attracting millions of visitors every year, the Site represents a fascinating journey into a lesser known part of the country's modern history, with an impressive reproduction of the first meeting in the living room on the first floor. Admission is free.
To get here, take metro line 1 and get off at South Huangpi Rd (Huang Pi Nan Lu). Station. Take exit 2 and walk along South Huangpi Road up to Xingye Road on your right side.
Shanghai's multifaceted society makes it for a very intriguing place to explore. Apart from shopping malls and museums, there's another side of the city that doesn't get all the attention it should. It's the spiritual scene of a world that has suddenly entered modernity but that is proud to cling onto its strong beliefs and the philosophy that made it one of the greatest civilizations.
Also when it comes to temples, visitors will stumble both on proper tourist destinations and in unsung pearls of Chinese culture. Three unmissable sights of this kind are around the city center.
The first, easy to find, is Jing'an Temple (Jing An Si), in West Nanjing Road (Nanjing Xi Lu). With a history that dates back to almost 800 years ago, this is one of the main worship areas in Shanghai. It consists of three main halls finely decorated with jade Buddhas and his relics, as well as fresh flowers and the constant scent of incense lit up by the never-ending flow of worshipers. An attentive eye will notice that its traditional architecture is in striking contrast with the high modern-looking buildings and shopping malls that sit just beside. As crowded as Jing'an Temple is the Jade Buddha Temple (Yu Fo Si,) that, as the name suggests, displays two wonderful jade statues of the Buddha. Packed with tourists and worshipers, this temple is a pleasure to visit whether you are a Buddhist or not thanks to its magical atmosphere that makes for an enchanting break from the hassle and bustle of outside modernity.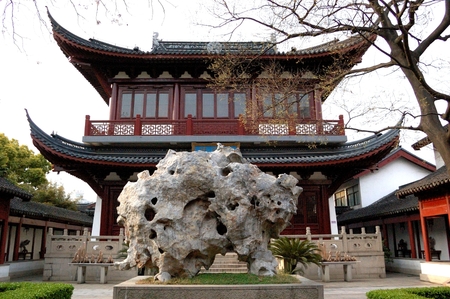 A true hidden gem within Shanghai's spirituality is the Confucius Temple (Shang Hai Wen Miao) situated in Wen Miao Road (Wen Miao Lu). Beautiful display of Chinese culture inspired by Confucius' philosophy, the gardening style plentiful of rocks shows the importance nature held in his ideology as well as the influence he had on Chinese civilization. The temple might be a little hard to find as Wen Miao Road is a small alley off the main South Xizang Road (Xi Zang Nan Lu but it's definitely a must. The nearest metro station is Loaximen on line 10.
Traveling to Shanghai, and China in general, for the first time isn't easy. The main hindrance is the language. Not many Chinese speak a fluent, or any, English, and Mandarin isn't exactly a language Westerners can pick up easily. It's therefore recommended to bring a small glossary with you so that you can point the characters of the essential stuff you may need. For smartphone users there are some great apps to help you like Jibbigo and Pleco.
Going to eat is usually quite straightforward, as most restaurants have their English-version menu, but if you are a complete vegetarian you can find some problems since in Chinese cuisine meat is added about everywhere, to the extent that sometimes they don't consider a meat-based dish if it contains only small pieces of pork or chicken. This is why, if you don't want to eat any kind of meat you will need to tell them first, then specify all the ingredients you don't want:

– I don't eat meat: Wo bu chi rou
– I don't want pork: Wo bu yao zhu rou
– I don't want beef: Wo bu yao niu rou
– I don't want chicken: Wo bu yao ji
– I don't want fish: Wo bu yao yu
Transport is not a problem, as the wide and well-organized metro lines make it very easy to get around anywhere in the city. It's important to make sure you have an up-to-date subway map in English language instead of the Chinese version, possible to find at the main metro stations. In all stations names are both in Chinese and English. In case you want to take a taxi, they are very cheap and available everywhere, but again, drivers don't speak English, and often they won't understand which road you want to go to, so it's always a good idea to have the destination written in Chinese characters.
The first period in China is a challenge, but once the ice is broken, the country reveals itself as a wonderful destination to be explored, unearthing its hidden gems and fast-paced evolution.
More Articles from Angela:
? Speaking Mandarin – Must Know Expressions – a 6 part series
? The Jade Buddha Temple in Shanghai
? Shanghai's Display of Communism

This guest post was written by Angela Corrias. Angela is a freelance journalist. She specializes in travel writing with the aim to combine her passion for travelling with a socially aware writing. She regularly updates her travel website Chasing The Unexpected.
Visit Shanghai on our 2012 Silk Route Bicycle Expedition.