Blog
REGISTER NOW
LOGIN
SIGN UP FOR OUR NEWSLETTER
Sighnaghi – Georgia's 'Tuscan' City Of Love
Mats Fredrix is the Content Creator for the 2022 Trans-Caucasus Cycling Tour. He sent this report from Sighnaghi, Georgia.
It is difficult for expectation levels to rise any higher after you hear you're about to ride into, 'Georgia's most beautiful city'. Add in some, very shallow, research and you're left with fantasies of 'the city of love','the next Florence' or 'the Tuscany of the Caucasus'. To be fair, the TDA cycling caravan's excitement levels were already through the roof after setting out from the dry, almost forgotten, desert village of Udabno on what was only their second day of riding on the Trans-Caucasus tour.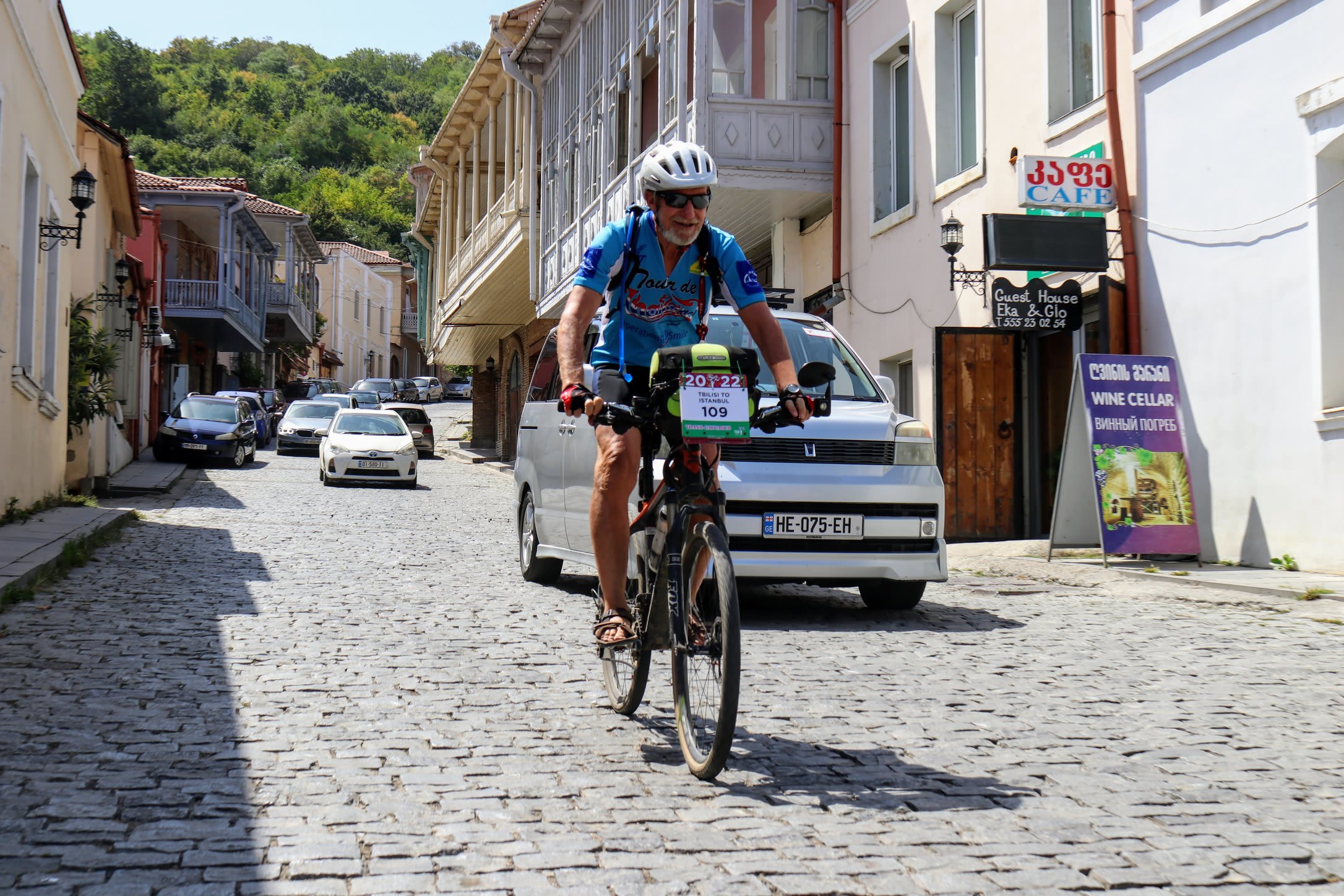 Having had the privilege of visiting  both Tuscany and Florence, I can tell you, Sighnaghi is nowhere near as striking as Italy's most famous wine region and its capital city. But, fair enough, this is Georgia, not Italy. This city was quite significantly refurbished in 2007 by the government with visions of Tuscany strongly lodged in the back of their minds. Cities imitating and mirroring themselves to Western styles and architecture are always a bit like beating the air. The Georgians, however, landed a hell of a lot closer to the mark than the Moroccans with their effort.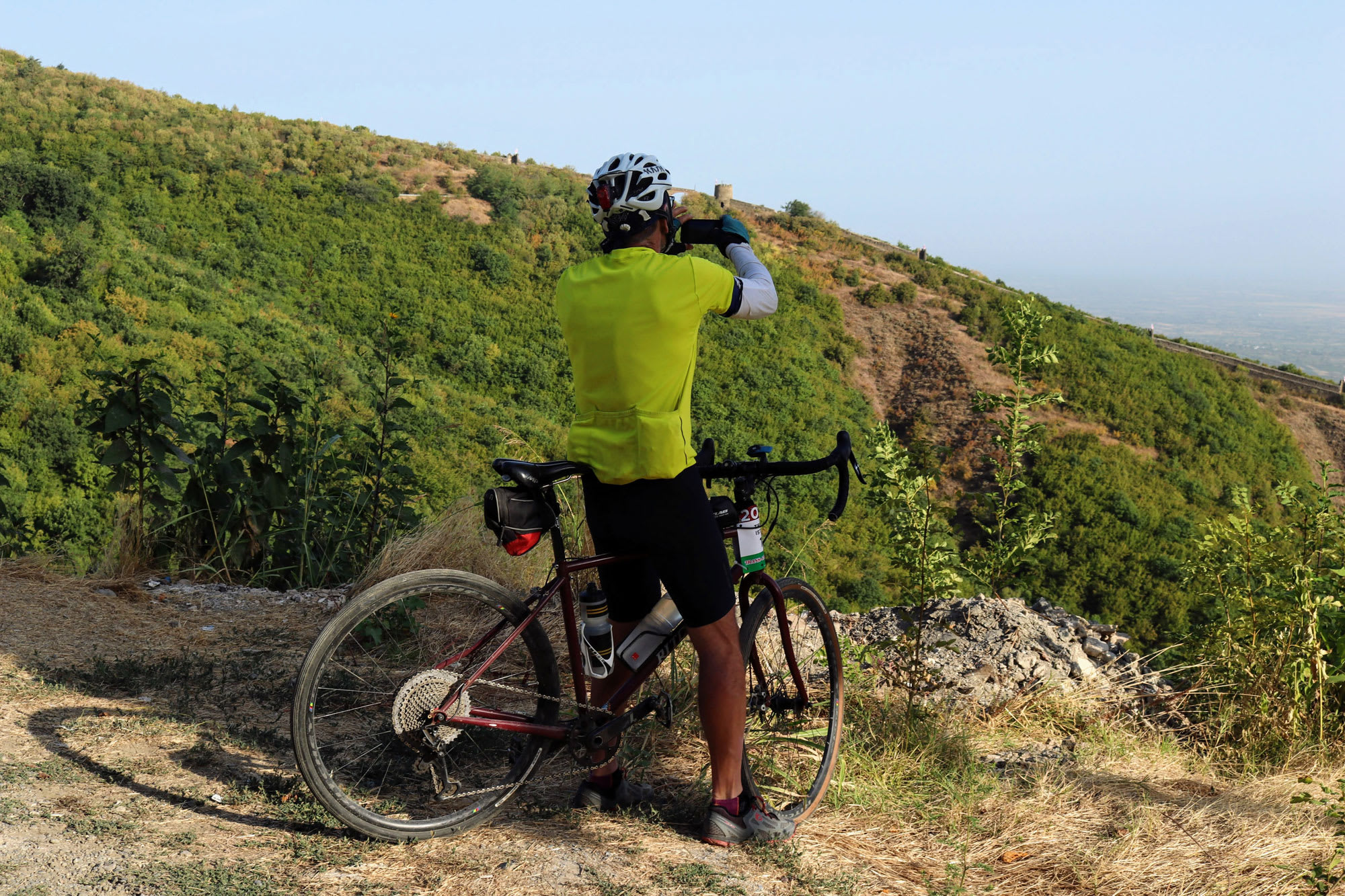 Sighnaghi, located atop quite steep a hill, has an absolutely fascinating history. It begs the painful question why there's any need for imitation at all. This region, with all its wine, vineyards and a climate that – or so one of the riders who is a geophysicist told me – is almost exactly like Italy's most famous wine region. That makes a comparison almost inevitable.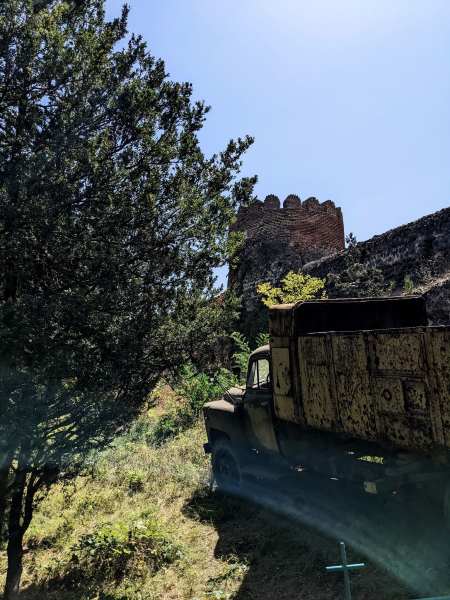 Riding into the city, much of Sighnaghi's history becomes blatantly obvious. The city's name Sighnaghi comes from the Turkish word signak, which means shelter. In other words, it's a fortress, and a stunning one at that. The main city is surrounded by a four km defensive wall, called, surprise, surprise, 'the Great Wall of Georgia,' of which long stretches are still clearly visible. All these fortifications certainly served a purpose. It was initially erected – some say out of an already existing settlement – in the 18th century to ward off marauding attacks by nearby Dagestani tribesmen and has kept up its status as a refuge from war and a sanctuary of love, kindness and virtue ever since.
When it comes to the title, 'The City of Love', the claim is largely due to the city's particular pastel colours that pop up everywhere. Many buildings and balconies are doused in blue, pink and yellow hues and many Georgian couples visit the town to get married. Although Sighnighi won't quickly snatch the 'City of Love' title from Paris, you can consider it a significant outsider in that competition. And though it is certainly not the 'next Florence', it is a great city in and of itself, needing no comparison to any other big attraction to up its value as a place well worth visiting.
RELATED
TOUR