Blog
REGISTER NOW
LOGIN
SIGN UP FOR OUR NEWSLETTER
Carrots are 7000 Manat per Kilo
Budgeting for and keeping the books on our tours is certainly not your regular bean counting job. It's way more interesting and challenging! Cycling around the world we transact in a myriad of local currencies, more than 40 all told, from Ethiopian Birr to Tajikistan Somoni to Zambian Kwacha, as we strive to keep our customers fed, our support vehicles running, and our tours on schedule.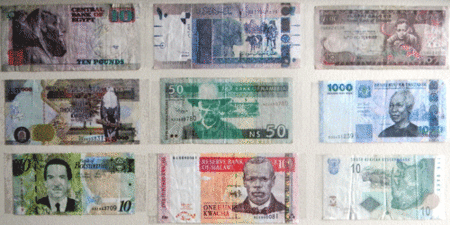 Tour d'Afrique Currencies
All of these transactions have to be converted into a hard currency, usually US$ or Euros, in reports to the home office where they are analyzed versus the tour budget by Brian, our accountant and numbers guy. He in turn enters them into QuickBooks which converts them again into Canadian $, our home currency, at each month's official exchange rates. Ultimately the aims are to keep Revenue Canada happy and our organization in the red while we deliver, design and market cost efficient adventures of a lifetime.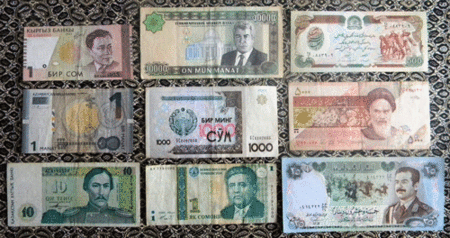 Silk Route Currencies plus out of circulation Afghani Iranian and Iraqi notes
Fluctuations in rates of exchange, devaluations of currencies in unstable corners of the world, and unforeseen price increases in others add to the challenge. Some so-called developing world countries remain relatively cheap, while others are surprisingly expensive.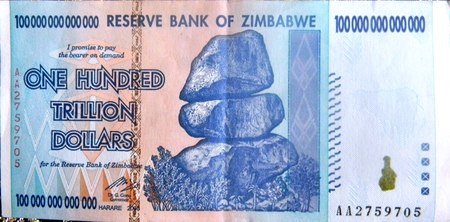 Inflation a la Robert Mugabe – The world's highest denomination note was worth about US$3 before it was removed from circulation a few years ago.
Our cooks probably have the most fun as they haggle in outdoor markets and with roadside vendors, shop for bulk purchases in the cities, and calculate in their heads and notebooks if the prices they are being offered constitute a bargain, a fair price or a conniving attempt to gouge us. Exchanging currency on the black market is a particularly risky proposition, especially when dealing with a currency that has a lot of zeros.
Here's an amusing anecdote from our Tour leader and former Chef, Miles MacDonald:
"I've had the chance to cook on most of our Tours and hence handle a wide variety of local currencies along the way. Way back in 2006 I was scouting the Azerbaijani section of our Silk Route Tour. When I entered the country I was confounded to find not 1 but 2 local currencies, each "floating" currencies and each with different denominations and values. It was a recipe for confusion anytime I tried to make a purchase along the way.
My first time entering Turkmenistan in 2007 was also mind boggling. I gave $1000USD to our local support company for them to exchange into local Turkmeni Manat. 10 x $100USD bills can easily fit in your pocket. When the local support came back they gave me a large canvas grocery bag full of giant stacks of Manat! At the time there were 2 exchange rates, the "official" rate of about 14000 to the USD, and the black market rate which was about 22000 to the USD. The largest bill available was 10,000 Manat = about 50 cents. So I had something like 2000 bills with me.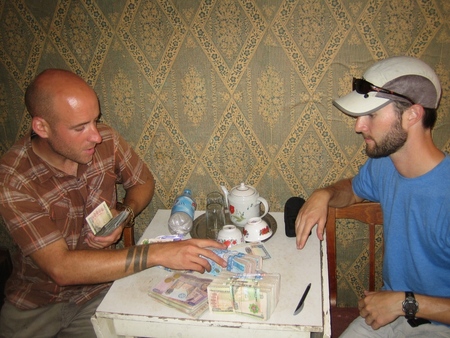 Miles and Manat

"Luckily in a country like Turkmenistan, especially as a foreigner with a local tourism agent following you around, worrying about theft is not paramount. On the other hand there are unsavory bribes to pay, and endless costly bureaucracy to deal with. Anyways, shopping at the market required lugging around this massive grocery bag full of money and taking out giant wads of cash every time I went to buy some watermelon or the incredibly delicious smoked sturgeon. Even odder is that, surrounded by locals, I was the only one who found the situation funny."
In short, just like riding on our tours, there is rarely a dull moment when it comes to forecasting, handling, and managing our financial resources.