Blog
REGISTER NOW
LOGIN
SIGN UP FOR OUR NEWSLETTER
Cinelli Test Ride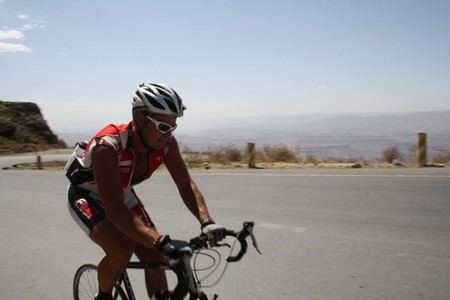 Tour mechanic, Douglas Percival set a new staff record for the Blue Nile Gorge time trial when he completed the epic 20km climb in 1:24:30, finishing third overall.
He reports back on taking on one of the toughest sections of the tour on one the custom-made Cinelli TdA bikes.
Riding the large Cinelli Cyclocross bike on an uphill time trial was a good experience.
I removed the knobbly tyres for the race and replaced them with some Schwalbe slicks. I am 6ft2 so found I have to ride the seat post almost above the maximum mark. The 120mm stem allows for a comfortable reach to the bars. A larger width bar like a 31.8mm could possibly be comfier on the hands and perhaps a wider bar too.
The frame is super stiff which I enjoy. When you stand during a climb or in a spring there is no rear end flex when under power. Many times I've ridden aluminium frames and had trouble with flex so this was a nice surprise. The frame has a steep head tube angle which was great for the climb. Descending and when standing and sprinting whilst holding in the drops is twitchy at times (perhaps a wider bar would also improve that).
For general cruising on the flats and rolling hills the wheels were great, they roll well and are a good weight – they are not carbon light but strong and do not flex either.
Sadly there is only one water bottle cage mount – two would be good especially when wanting to tour with this bike. All the components are midrange which as a bike mechanic I feel is a good choice. They're slightly heavier than top end equipment but reliable and easy to service and that's what you need when on the road away from the luxuries of a bike shop and the perfect workshop.
All-round it's a great ride capable of doing different terrains and proving to be very reliable.
— Douglas Percival