Blog
REGISTER NOW
LOGIN
SIGN UP FOR OUR NEWSLETTER
E – friends & R – friends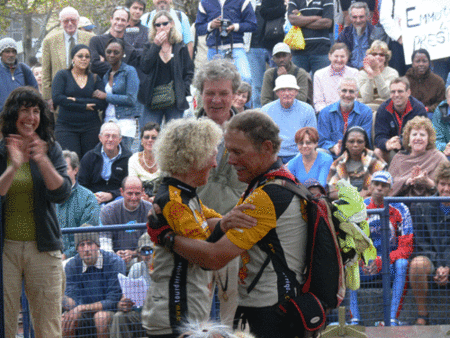 In an age of social networks like Facebook, LinkedIn and the like, the word 'friend' has a different meaning. Jenny and I are friends with many people, mainly through electronic encounters. Perhaps we should call these friends, our e-friends.
When do friends become r-friends, real friends? When you have cycled across Africa together!
Our network of r-friends enlarged significantly after the TdA of 2006 and some of them we see reasonably often:
Madeleine and Christian, with we did another cycling trip.
Irmie and John who visited us here in France and who we will see soon in South-Africa.
Judy (below) who drove 4 hours to see us during a camper trip in Canada.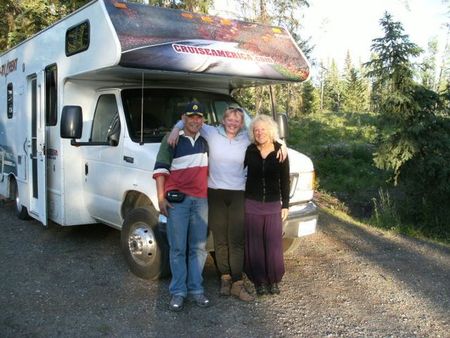 We also made r-friends following the TdA of other years:
Marius and Hannie from Holland who helped us prepare for our trip.
Wilbert and Rob with whom we did more cycling together.
Louise and Henk who came to our house to hear about our experiences to prepare for their trip.
And recently Eric who wrote his lovely book A Home To Head For about his 2010 TDA experience.
Many others we have not seen in person since May 2006. Perhaps because our roads did not cross, like with Tobias, the doctor on our 2006 tour, who we saw unexpectedly in 2010 on the Ferry in Port Hardy BC in Canada.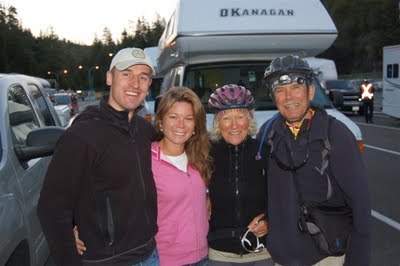 It's then that you realise that even if you haven't seen each other for years, the experience on the ride across Africa together has created a bond forever. It gives you a warm feeling, almost emotional, to see each other again. R-friends with a capital R!
We hope to see many of our R-friends during the All Roads Lead to Rome Alumni Event this year. We will bring enough handkerchiefs for those emotional moments and yes, also our book from the TdA2006 (not for sale sorry!). It will bring back sweet/sad memories but it will also be a good moment to make new plans for other trips together somewhere on this planet.
See you, Jenny and Kees Vonk